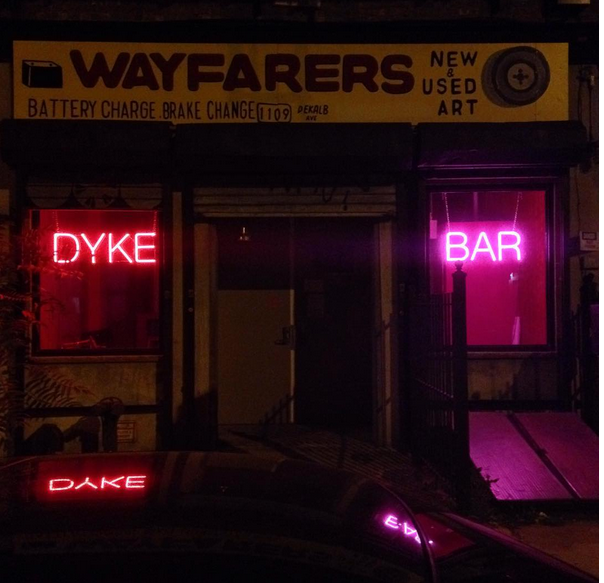 Exterior of The Dyke Bar, Macon Reed
Wayfarers is proud to present the culminating project of our 2015 Summer Artist in Residence:
Macon Reed's Eulogy For The Dyke Bar revisits the legacy and physical spaces of dyke and lesbian bars, an increasingly rare component of the gay and queer cultural landscape. Reed's installation, made of cardboard and simple materials that unapologetically reveal her hand in their making, offers a full bar, pool table, neon signs and hand-painted '70s-era wood paneling.
Eulogy For The Dyke Bar seeks to acknowledge the mass closing of dyke bars across the country and ask a host of questions, such as: Why are these spaces closing? What socio-economic, cultural, and technological factors contribute to this phenomenon? Are the same factors impacting spaces for gay men? What role have physical spaces such as dyke bars played for lesbian-identified people in the past and how has that changed over time? How do we learn from these spaces and move forward in creating new spaces that are safe and affirming of our various communities while embracing expansive notions of gender and sexuality across generations?
On September 25th, the bar comes to life: Dyke bartenders serve drinks as Eulogy For The Dyke Bar in collaboration with New York-based Queer Memoir offers a night of story-telling and performance from across spectrums of age, gender, race, and sexuality. Reflecting nuanced experiences in and around dyke bars, performances both celebratory and lovingly critical acknowledge these spaces that may soon exist only in our shared stories.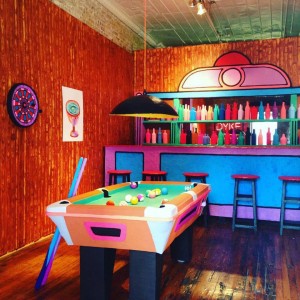 ABOUT QUEER MEMOIR
Queer Memoir is New York's first and longest running LGBT storytelling series; giving voice to our collective queer experience and preserving and documenting our complex queer history. Every month, we host some of Queer New York's best known performers, and folks who have never been on a stage in their lives and bring them together to celebrate the ritual and community building value of storytelling.
Residency provided by Wayfarers Studio Program
A livestream of the closing event of Eulogy For The Dyke Bar airs September 25, 2015, 7pm ET / 6pm CDT