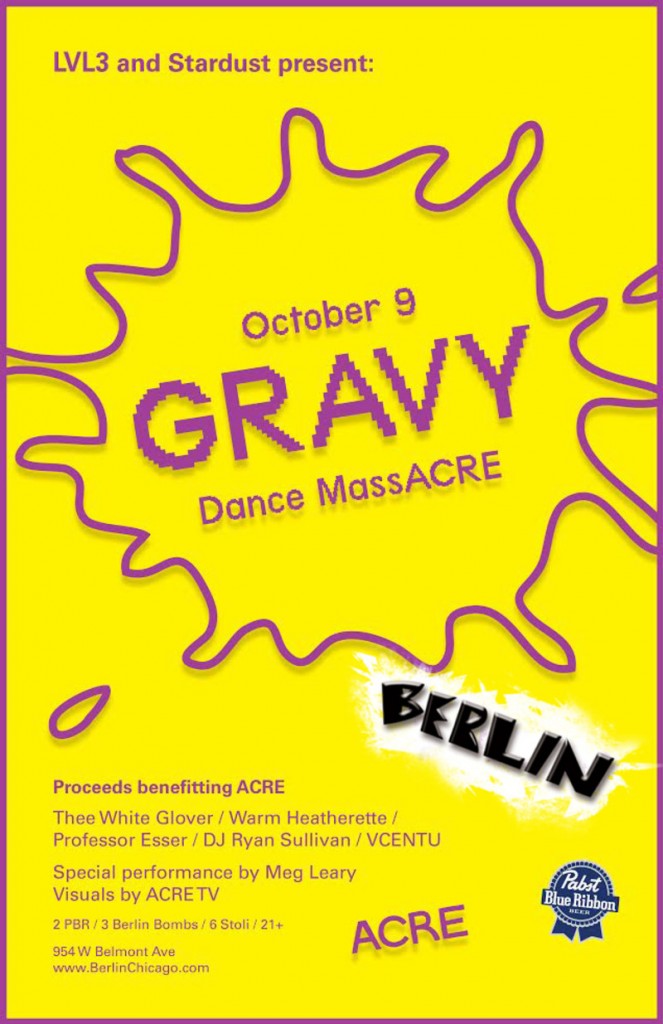 LVL3 & Stardust Present:

GRAVY: Dance MassACRE

With DJs:
Thee White Glover
Warm Heatherette
Professor Esser
DJ Ryan Sullivan 
VCENTU

Special performance by 
Meg Leary
Visuals by ACRE TV
*Proceeds benefitting ACRE residency program*
RSVP for reduced cover till 11pm
$2 PBR / $3 Berlin Bombs / $6 Stoli
*GRAVY is a benefit dance party curated by LVL3 on the second Thursday of every month at Berlin Nightclub. By featuring a not for profit every month, GRAVY aims to raise awareness for some of Chicago's most esteemed organizations. GRAVY encourages freedom of expression by highlighting creative talent from around the city, while also hosting special guests and programming from across the globe.
ACRE (Artists' Cooperative Residency and Exhibitions) is a volunteer run non-profit based in Chicago devoted to employing various systems of support for emerging artists and to creating a generative community of cultural producers. ACRE investigates and institutes models designed to help artists develop, present, and discuss their practices by providing forums for idea exchange, interdisciplinary collaboration, and experimental projects.
LVL3 is an exhibition space in Chicago, IL. LVL3 is dedicated to supporting collaborative work and group shows of all mediums to foster connections between emerging and established artists from around the world.