Are you a student at SAIC? Enroll in Latham Zearfoss' "Technicolor Electorate" which will culminate in a public exhibition on ACRE TV!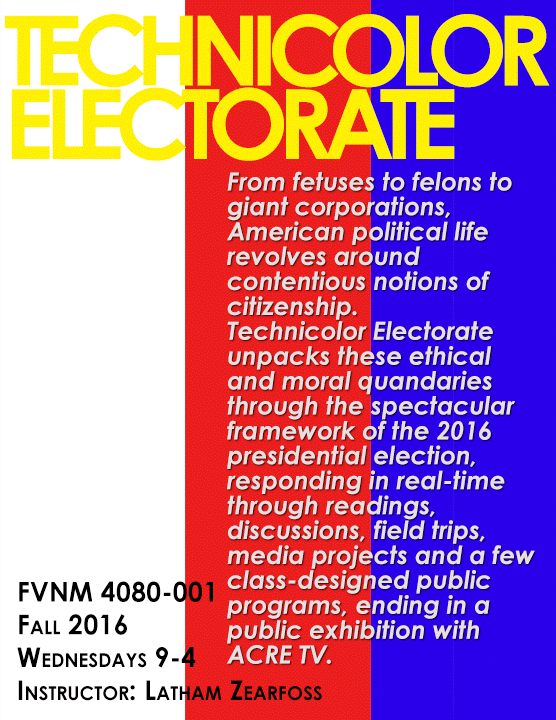 Latham Zearfoss writes:
I'm putting the call out for some thoughtful and dedicated students to enroll in this very special and timely class I am teaching in the fall. The class is structured as a durational, creative, critical engagement with governmental and institutional forms of democratic initiatives, including those in our immediate surroundings. The course load for Technicolor Electorate will be split fairly evenly between collaboratively designed research and exploration, public programming around democratic participation, and creative media projects, culminating in a public exhibition through
ACRE TV
.
The class is listed in the FVNMA department, but I would be thrilled to have students from a diversity of disciplines. Students who are interested, but may not meet the departmental prerequisites should contact me at
lathamowen@gmail.com
to get a permission number for registration.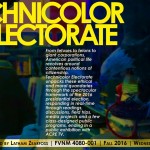 Latham Zearfoss
 is an artist and cultural producer living and working in Chicago. His artwork often centers on reclaiming historical and mythological texts, and revising them to incorporate radical notions of love and sex, possibility and probability. His commitment to art and activism has also manifested in the creation of sporadic, temporary utopias like Pilot TV and
Chances Dances
. Latham graduated from The School of the Art Institute of Chicago with a BFA in 2008 and the University of Illinois at Chicago with an MFA in 2011. He has exhibited his work internationally and all over the U.S.