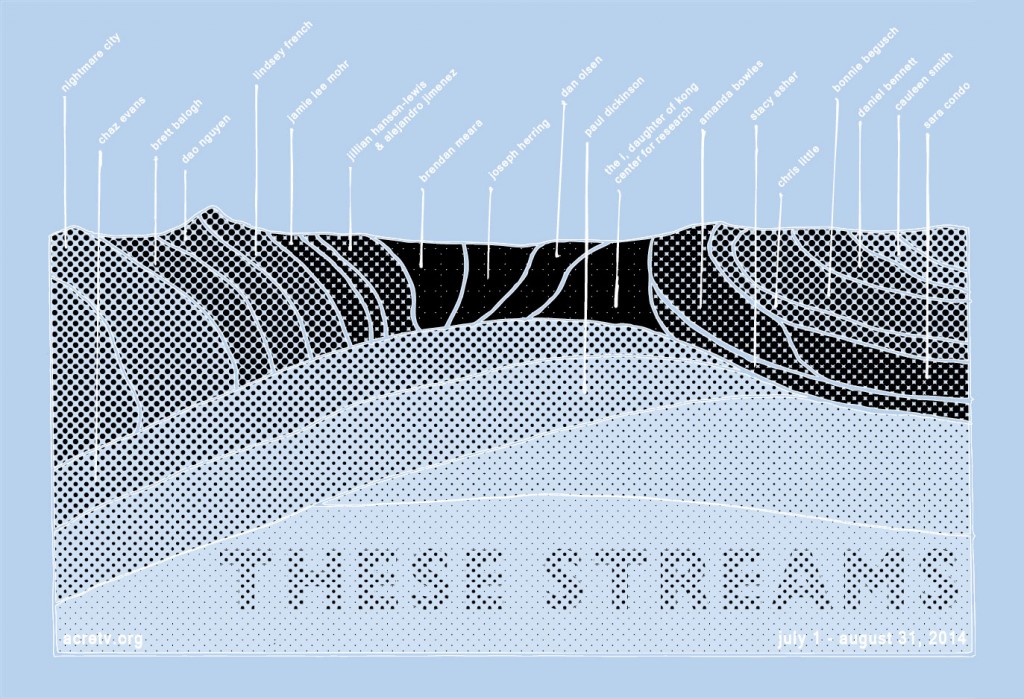 ACRE TV is pleased to present:
July 1 – August 31, 2014
Before advertisers could sell products on television they had to sell television itself as a medium. These advertisements welcomed us to Televisionland, an alternate reality that keeps on living even when we switch off our sets. In Televisionland, the stars—the celestial constants by which the ancients measured time—are replaced by a broadcast schedule, aligned to the forty­hour work­week. In Televisionland swearing doesn't happen before 10pm and conflicts are resolved by the top of the hour. Televisionland bridges the gap so that voice and vision transcend space, harnessing the present to overcome the ancient barriers of time and distance.
For These Streams, our two­-month thematic show, ACRE TV is tackling the medium. Including episodic livestreaming projects by Brett Balogh, Lindsey French, and Joseph Herring; durational works by Nightmare City, Paul Dickinson, Chaz Evans, and Brendan Meara; episodic shows by Stacy Asher, Chris Little, Jamie Lee Mohr, and Dao Nguyen; and a daily shorts program featuring Bonnie Begusch, Daniel Bennett, Amanda Bowles, Sara Condo, Jillian Hansen-Lewis & Alejandro Jimenez, Dan Olsen, The I, Daughter of Kong Center for Research, and Cauleen Smith.
Addressing the nature of streams, those parallel ever­becoming fantasyscapes, those shared approximations of the just­present, These Streams moves from Televisionland to Livestreamland and back. Think continuity, NOW, distance, crystal balls, trains of thought, video­not­on­demand, and any and all things streaming.
Poster Design: Sebastian Aguirre
Full program information
HERE