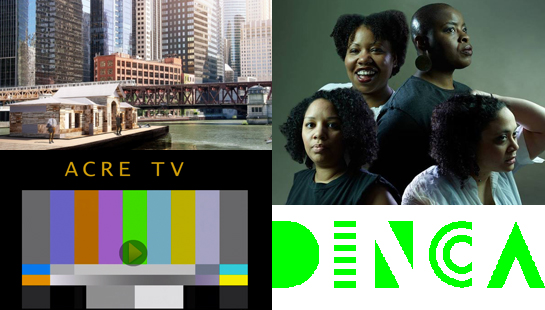 Propeller Fund is proud to announce the 2015-2016 Pilot Program residents, Floating Museum and Honey Pot Performance. The Pilot Program residency at Mana Contemporary provides ongoing support to Propeller grantees by awarding two free studio spaces to former grantees for a year for the incubation of new projects. The Propeller Fund production and exhibition space at Mana also welcomes 2015-2016 residents DINCA Vision Quest and ACRE TV. Propeller's second year of residencies follows 2014-2015 Pilot Program residents Radius and Multiuso, an initiative formed out of A Day Without Public Art in Pilsen.
Pilot Program Residents 2015-2016
About Floating Museum:
The Floating Museum blends creative place-making, activism and exhibition design to make a platform for conversations and community engagement. Faheem Majeed, Jeremiah Hulsebos-Spofford and Andrew Schachman are facilitating a project wherein architecture becomes the medium for exchange and a flexible site for programming by using a structural interpretation of the historic DuSable Museum that moves to various locations in Chicago and will eventually float down the Chicago River in the summer of 2016.
The Floating Museum project is inspired by the architecture, evolution, and historical significance of the DuSable Museum. It asks questions about how art can be an engine for change and act as a think tank for experimental museum practices while reversing the dynamics of brick and mortar institutions by bringing the institution to the people. While in residence at the Propeller Fund Mana Studio the artists will use the space as a project laboratory—testing exhibition design, developing community partnerships, building structural models and hosting a wide range of conversations.
About Honey Pot Performance: 
Honey Pot Performance (HPP) is a woman-focused, collaborative, creative community committed to chronicling and interrogating Afro-diasporic feminist and fringe subjectivities amidst the pressures of contemporary global life. HPP draws upon a central notion found in performance studies, black feminist discourse, and sociology: i.e., that non-Western, everyday popular and/or folk forms of cultural performance are valuable sites of knowledge production and cultural capital for subjectivities that often exist outside of mainstream communities. HPP enlists modes of creative expressivity (movement, musicality, theatre, text) to examine the nuances of human relationships, including the ways we negotiate identity, belonging, and difference in our lives and cultural memberships. Through performance, HPP emphasizes everyday ways of valuing the human.
Throughout their residency, HPP will complete a dramaturgical process for their newest projectMa(s)king Her, which addresses the absence of women of color in speculative fiction as empowered future beings and journey women. The work draws on Afrofuturist and Afrofeminist theories to create a contemporary coming-of-age story developed through an evolving public workshop series. Participants will explore critical black feminist texts and generate performative responses through text, music, sound, movement, altar-making, and games.
Production Space Residents 2015-2016
About ACRE TV: 
ACRE TV is an artist-made livestreaming tele-vision network that features live and canned video, performances, durational works, and experimental broadcasts. ACRE TV was born out of the collaborative spirit of ACRE (Artists' Cooperative Residency and Exhibitions) and is directed by Kera MacKenzie, Andrew Mausert-Mooney, Nick Bacon, and Nicholas Wylie. ACRE TV has two categories of programming – independent and thematic. Independent programming, such as art-talk shows, shorts programs, and performance events, play throughout the year. Two-month long thematic programs are devised, curated, and programmed by an 8-12 member curatorial board. ACRE TV can be viewed 24/7/365 at ACRETV.org.
While in residence, ACRE TV will transform the Propeller production space at Mana into a TV studio and publicly accessible broadcast station. Live and commissioned shows by artists will be hosted in the exhibition space and watch parties and events will be offered to ACRE TV's community of artist-made television fans.
About DINCA Vision Quest:
Presented by dinca.org, Vision Quest is a three-day festival celebrating the most innovative contemporary moving image and media art culture from artists worldwide, with salient interest in supporting artworks made using unconventional processes and emerging technologies. Vision Quest is presented in a multimodal and multimedia format, where audiovisual performances are cross-pollinated with time-based media screenings and digitally exhibited commissioned artworks to present a showcase of the most essential contemporary media culture. This year's Vision Quest will be held at the MCA and Co-Prosperity Sphere fromSeptember 10-12, 2015.
In the Propeller prodcution space through 2016 will be the DINCA Residency Space (DRS), a visual arts workspace providing opportunities for community organized events and small-scale exhibitions. DRS activities will also include conceptual installations and "Quarterly Community Critiques" (QCC), a program serving as a public art critique/open-mic night/show-and-tell. Additionally, the DRS functions as a production space for the operations of DINCA (dinca.org), a weblog surveying contemporary visual art, and DINCA Vision Quest.