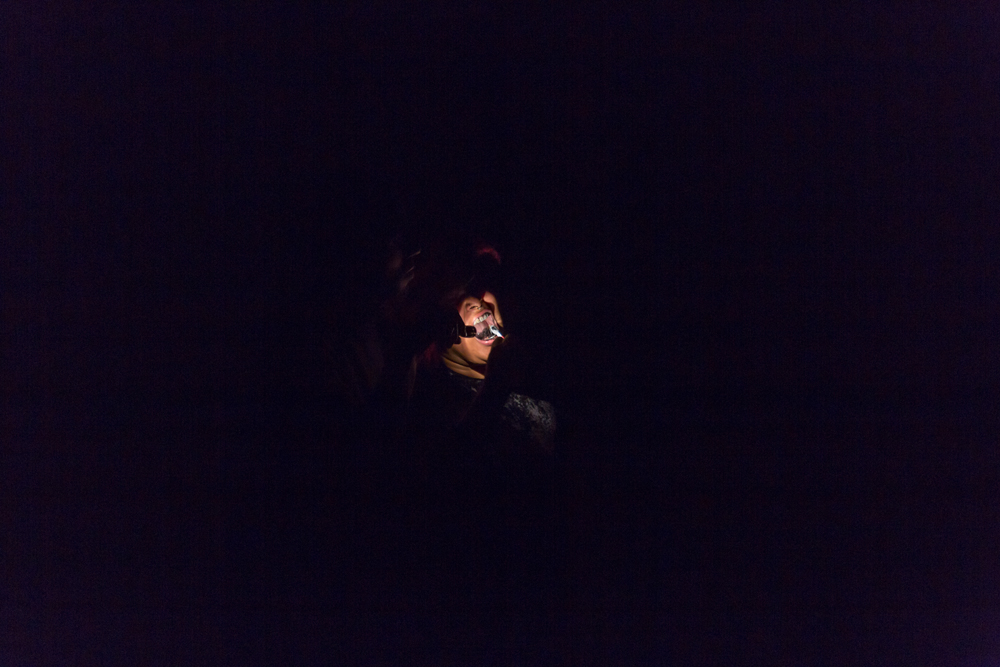 twinskin performance at Links Hall, 2016. Image by Heather Halbert.
"I have been probing language, making toys and playing with my friends. Over the course of this week I will continue to do just as we please. Please join me for language explorations with collaborator Jory Drew, new work from collaborative music-based mystery twinskin and a live-broadcast class from Rashi of Woman Untamed." -AR
---
SCHEDULE:
MONDAY, March 14
Photo installation (Assembled 5-6 pm)
TUESDAY, March 15
Word Games w/ Jory Drew (6 pm – TBD)
WEDNESDAY, March 16
Word Games w/ Jory Drew (6 pm – TBD)
THURSDAY, March 17
Day Work by twinskin (9 am – 11 am)
FRIDAY, March 18
Rashida Khanbey (Rashi) of  WomanUntamed – live streamed morning class (10 am – 11 am)
SATURDAY, March 19
Word Games w/ Jory Drew (6 pm – TBD)
SUNDAY, March 20
Night Work by twinskin (8 pm – TBD)
---
Looping video works when not live:
Hiba Ali
Postcolonial Language Segment2: Commercial, 2013-2015, 1:30
hibaali.info
NIC Kay
body hack, 2015
soft + cunt, 2016 4:11
nic-kay.com
Camille Laut
Il Faudra Combler La Distance, 2015, 11:04
vimeo.com/camillelaut
Yani Aviles
Blowing in the Wind, 2015, 2:04
yaniaviles.com
A.j. McClenon
the more you are, 2013, 12:17
ashleyjmcclenon.com
Elena Tejada-Herrera
INTIMACY, 2016, 3:38
tejadaherrera.wordpress.com
Emily Schulert
3 Dancing Girls, 2015, 00:23 Loop
Secret Garden, 2015, 00:21 Loop
emilyschulert.wordpress.com
Jeffrey Chance
DuMaCaNaNa, 2016, 1:05 Loop
cargocollective.com/jchance
Amina Ross
If Today Never Gives Up In Me, 2015, 1:54 Loop
A Bridge, [A Black,] A Barrel, A Back, 2015, 6:24 Loop
Raw Footage #2, 2013, 00:44 Loop
White Rat, 2013, 00:56 Loop
aminaross.com
---
Amina Ross is an undisciplined artist fascinated with the abstraction and manipulation of visual and written language. As of late these interests have led to an exploration of PLAY as both a site of inquiry and a critical mode of making. Amina's practice consists of image-making, writing, performance, and installation strategies.
Jory Drew is an artist whose practice relates the conjunction of thought and vision, as they relate meaning, to pattern and repetition. Drew abstractions work to outline this confusion, of image over meaning or use over function, with the playful nature style.
twinskin is a collaborative project by Joelle Mercedes and Amina Ross. "Twin skin" colloquially refers to the contours left behind after the birth of twins. Amina and Joelle would like to tuck away in this skin-sheath for a bit, there is sanctuary in this site of the underbelly. twinskin's love of text, color, material and sound articulate a longing, a strangeness, a place between the skin one shows the world and the body that one inhabits.
Rashida KhanBey (Rashi) is creator of Woman Untamed, a sensual dance fitness class created to help people feel strong, sexy and sensually alive in their bodies.
Airing March 14 – 20, 2016