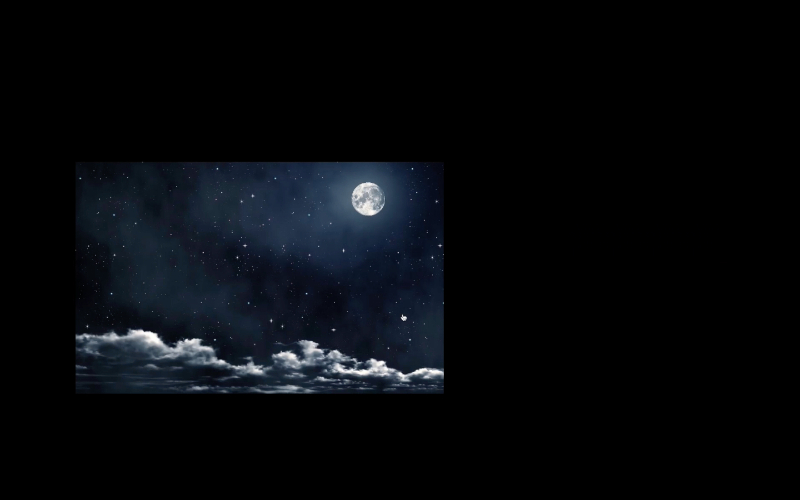 Still from Eileen Rae Walsh, The Sky, digital video, 0:55.
With a shared interest in how the cosmos and the scientific fields of physics and cosmology continue to inspire artistic production, Steven L. Bridges and Third Object join forces to create SATELLITES. This one-night event celebrates two recent exhibitions in Chicago dealing with the cultural import of the cosmos: Cosmosis, at the Hyde Park Art Center, and Were the Eye Not Sunlike, at Fernwey Gallery and on ACRE TV. Further extending the reach of these two distinct yet interrelated exhibitions, a program of performances and curated videos will take place throughout the evening, as well as an ACRE TV watching party featuring work from the video stream of Were the Eye Not Sunlike. The evening's itinerary will be marked by different artistic strategies of exploring how the cosmos acts as a screen onto which the many desires, fears, and wonders of humanity are projected.
PERFORMANCES
Erin Washington, A [person] can't just sit around (2014)
Rachael Foster, Outposts, Satellites, and Orphan Planets (2012)
Danny Giles and travis (of the band ONO)
+ Pseudonaut refreshments by Sarah & Joseph Belknap
+ Print works by New Catalogue
VIDEO
Blair Bogin, Galileo and Selfies, 02:01
John Szczepaniak, A Bao A Qu, 04:22
Pablo Marín, film, 03:24
Laura Mackin, Dean Sunsets, All of Them (1952-2006), 01:31
Tommy Becker, Pulling Down the Sky to Give You the Sun, 01:57
••• Screening at 6:30 and 8:30pm
Cassandra C. Jones, Takeoff, 01:11
Eeva Siivonen, Star, Light, Nothing, 01:42
Robert Todd, Short, 04:43
Eden Mitsenmacher, A Poem For You, 01:57
Eileen Rae Walsh, The Sky, 00:55
Andrew Rosinski, A Beach, 02:17
Dana Carter, ZombieBling, 00:26
••• Screening at 7:30 and 9:30pm
+ ACRE TV Stream
SATELLITES



Saturday, May 23, 2015
6 – 10 pm
The Franklin
3522 W. Franklin Blvd.