Poster Design: Andy Burkholder
ACRE TV is pleased to present:
June 2015
A month of marathons from E.S.P. TV, Chic-A-Go-Go, STROBE Network, and THE 90's presented by Media Burn Archive.
Inspired by one of the most famous Chicago television incidents, ACRE TV's stream is being benevolently hijacked by four exciting media organizations for the month of June. These four groups range in project age (from 20+ years to prenatal) as well as geographic center, and have diverse methods and interests to match. Tying these projects together is a spirit of fun and experimentation in broadcast forms, on a human scale.
PARTICIPATING ORGANIZATIONS
Directed by Scott Kiernan and Victoria Keddie, this expansive project utilizes a mobile television studio to explore the artist dialogue with broadcast transmission, analog and digital media, and televisual liveness. ACRE TV hosts a TV marathon special entitled Next week on E.S.P. TV. With over 50 live taping events and over 75 episodes to date, this televisual series showcases the full spectrum of E.S.P. TV's 4 years of broadcast. The episodes will be played back to back from June 1 – 7, 2015. Made for television, the E.S.P. TV archive lives on forever in a perpetual "re-run".
E.S.P. TV's live TV studio hybridizes technologies old and new, to realize synthetic environments for performance while exposing their process of production. Each live taping event is the realization of an artists' collaboration with us.  These events are taped live with a crew of cameramen, sound engineer, and video mixing team in front of an audience. The recorded events air on Manhattan Neighborhood Network public television weekly, as well as online, and have been exhibited internationally.
E.S.P. TV broadcasts every Tuesday night at 10PM on Manhattan Neighborhood Network (MNN) channel 67 in Manhattan, as well as online at mnn.org. All episodes are then posted online on their website, ESPTV.com, and Vimeo page, vimeo.com/esptv. E.S.P. TV now also airs on Wednesdays with Comcast Cable 66/966 or Verizon Fios 29/30 in Philadelphia at 11:30PM.
---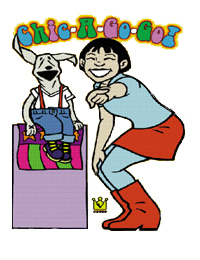 Chic-A-Go-Go,  "Chicago's Dance Show for Kids of All Ages", is a legendary Chicago institution, an inclusive venue for musicians and dance moves since the first taping in 1996. Created by Jake Austen and Jacqueline Stewart, Chic-A-Go-Go has and continues to invite multi-generational groovers into the worlds of contemporary weirdo music and the unrehearsed freedom of public access television. Shot at CAN TV, Chicago's public access television studio, a trip to a Chic-A-Go-Go taping might include encounters with world famous talking vermin Ratso and Li'l Ratzo, co-host Miss Mia, and any number of traveling musicians including Lemmy, Bobby Conn, TV on the Radio, Sonic Youth, Patti Smith, Sky Ferreira, Wesley Willis, and GZA.
Chic-A-Go-Go makes unique twists on television forms inherited from shows like Soul Train, and Chicago's own Kiddie-a-Go-Go, featuring lip syncing and an "El Train Line" segment to show off individual moves. ACRE TV is proud to host a marathon of selections from the more than 1,000 episodes logged, including some rarely seen, newly digitized, blasts from the past.   
---
STROBE Network is a temporary broadcast network that will air via a digital streaming platform, featuring artworks that make use of broadcast as an artistic medium. The content has been programmed through an open call and the Flux Factory community at large, including work from 75+ artists. STROBE Network will create and distribute an alternate reality version of mass culture that is free, conscious, experimental, and uncensored.
Streaming 24/7 for nine days, STROBE Network will feature video art, performance, animation, talk shows, music, and archival materials. STROBE Network will stream from June 13 – 21 via strobenetwork.tv and as a parallel stream on ACRETV.org from June 15 – 21. In addition to the online streams, they will welcome a studio audience for live tapings on select evenings at their sound stage in the Flux Factory gallery in Long Island City. Off-site stations will host viewing parties and Strobe TV Toilet Viewing Stations at TBD locations.
STROBE Network is part of Flux Factory's 2015 programming. Flux Factory is a non-profit art organization that supports and promotes emerging artists through exhibitions, commissions, residencies, and collaborative opportunities. Flux Factory is guided by its passion to nurture the creative process, and knows that this process does not happen in a vacuum but rather through a network of peers and through resource-sharing. Flux Factory functions as an incubation and laboratory space for the creation of artworks that are in dialogue with the physical, social, and cultural spheres of New York City (though collaborations may start in New York and stretch far beyond).
---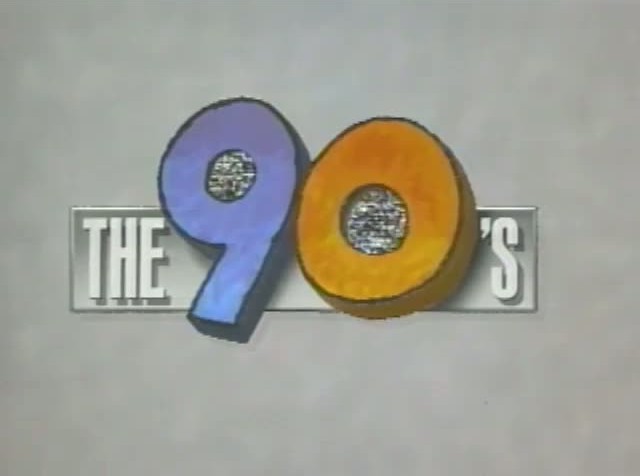 THE 90's
: June 22 – 28, 2015
Twenty-five years ago, something completely different was broadcast on public TV. No, not Monty Python…it was THE 90's.
"Easily the most important and innovative news show on the air, a show that does all the things that television was born to do but never does."
                                                                                       — Michael Dare, Billboard, August 25, 1990.
THE 90's was independently produced and broadcast on PBS stations in prime time nationwide, featuring the kind of videos most people didn't know existed. This was before cell phones, before the Internet, before YouTube, the Daily Show, or "reality tv."
The pioneering award-winning weekly series piqued curiosity and challenged ideas about the world.  It built an audience of millions on more than 160 public television stations.
In total, 52 hour-long episodes aired over four years. This week-long streaming marathon coincides with the 25th anniversary of this groundbreaking show. Viewers will get their only chance to watch, or re-watch, THE 90's as it was meant to be seen: together, with people all around the world tuning in at the same time. THE 90's has been preserved and made digitally available by Media Burn Archive, a project of Fund for Innovative TV, independent producer of THE 90's.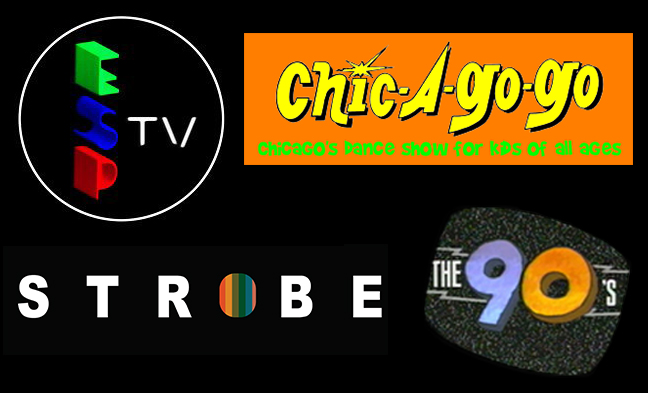 ---
ADDITIONAL PROGRAMMING:
Still from Sonia Levy, I Roam.
Plants, Machines, Animals, and Objects!
June 29 – 30, 2015
Airing at 12am, 3am, 6am, 9am, 12pm, 3pm, 6pm, 9pm CDT
Everywhere we turn, we find a territory of nonhuman things. It is impossible to escape the trace of others—from material structures (plants, machines, animals and objects) to those all but invisible bodies outside the bounds of human perception (atoms, molecules, pollution, viruses, satellites, planets, etc.). What would an aesthetic look like that included these many other things? Is such an aesthetic possible?
To further explore a line of research established by its affiliated reading group Following Nonhuman Kinds, The Green Lantern Press curated a series of short, related films that first screened at Sector 2337 in Chicago in June 2015, and again on ACRE TV. This series was curated by Giovanni Aloi,Kathleen Kelley, Trevor Perri, and Caroline Picard.
PROGRAM
1. Himali Singh Soin (in collaboration with Dario Villanueva), The Particle and the Wave (12:47)
2. Chloë Brown, Dialogue: Panthera Leo (3:16)
3. Laura Aish, The Machine (5:14)
4. Laura Cinti, Nanomagnetic Plants (1:55)
5. Peter Matthews, The Ocean Moves Through It (5:00)
6. Matthew C. Wilson, Forecast (2:52)
7. Quiet ensemble, Orienta (2:45)
8. Sonia Levy, I Roam (3:16)
9. Max Stocklosa, More World Material (15:32)
10. localStyle, Chew (3:33)
11. Gillian Wylde, A as in Animal (2:46)
12. NEOZOON, BUCK FEVER (5:54)
13. NEOZOON, MY BBY 8L3W (3:03)
14. Linda Tegg, Sheep Actress (2:58)
15. Filip Kwaitkowski, Tiera (2:47)
16. Chloë Brown & Ines Lechleitner, The Hum (3:19)
17. Smriti Mehra, Authanakoota (Banquet) (13:58)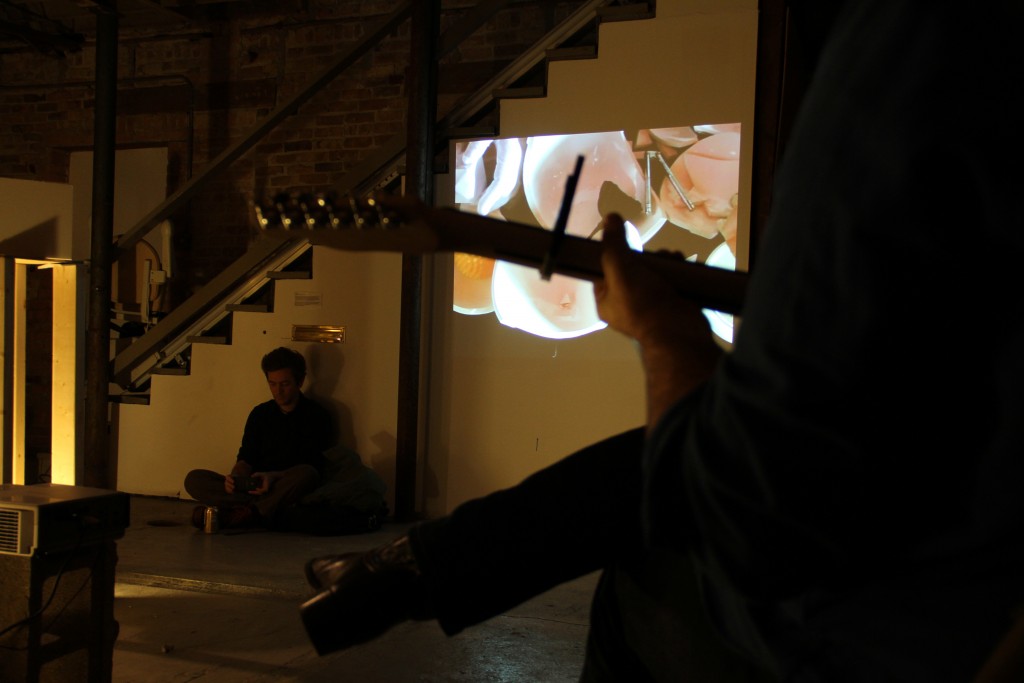 Performance/Installation still from Devin King & Caroline Picard,
Rehearsal of a Grand Opera for One Person,
New Capital, Chicago.
Rehearsal of a Grand Opera for One Person
June 29 – 30, 2015
Airing at 1:30am, 4:30am, 7:30am, 10:30am, 1:30pm, 4:30pm, 7:30pm, 10:30pm CDT
By Devin King & Caroline Picard
Pulling from toy theater and the operatic tradition of regietheater, combined with the effect of streaming media in the present day, Caroline Picard and Devin King's Grand Opera for One Person presents a 48-hour installation, interrupted for 2 hours by improvisatory guitar. The entire 48-hours is conceived as a performance of objects highlighting, in part, the potential for four 3-dimensional paintings to function as micro-stages that illicit a sense of anticipation and promise for aesthetic transformation within the viewer. The 2-hour interruption, or musical interlude, creates an intermission in the tableau, inverting traditional expectations about space and human relation.
Rehearsal of a Grand Opera for One Person assumes that a space can be active without human presence; a painting has the ability to move and affect, even while it is inanimate. Furthering that point, a birds-eye video loops simultaneously, capturing four acts and a curtain call of assorted objects as they move back, forth and around a black table by a pair of gloved hands. This simple choreography establishes a flux and flow of relations between things performing for a camera.
The collaboration was inspired by two separate lectures, samples of which are integrated into a looping 20-minute audio track. The first lecture about Graham Harman, Louis Zukofsky, John Cage and the sample-as-object (by King), and the second about Timothy Morton, Giorgio Agamben and The Pancantantra (by Picard) provide an ambient background text about nature and object oriented ontology.
The Opera is a Total Art Experience. It is massive, expensive, glittering and refined. Its high status and rarified aesthetic is easily inaccessible and exclusive — it is an older tradition, with massive audiences who sit together in vast, ornate rooms. King and Picard are interested in the potential for that form to be appropriated, reduced, tweaked and recontextualized as a one-on-one event, in which humans may or may not be present. This performance was their first rehearsal. This piece was performed on November 19th, 2012 in the basement of New Capital, in Chicago, Illinois.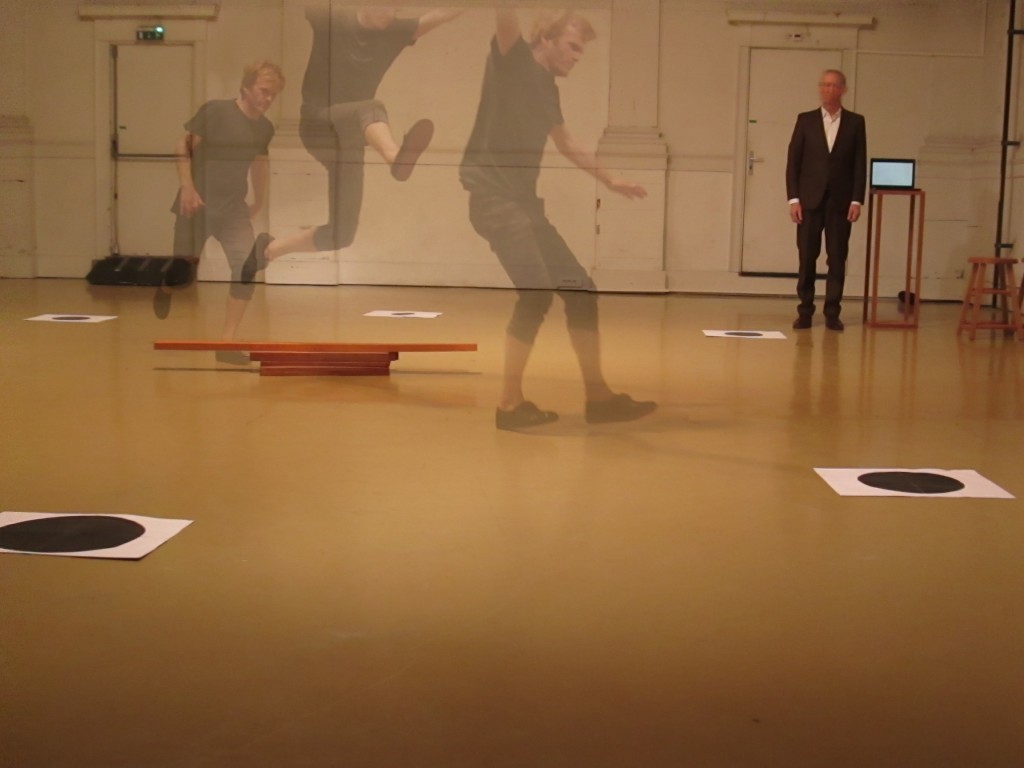 Still from video documentation, Every house has a door, Testimonium, Bourges, France.
Testimonium (quiet form) in Bourges, France
June 29 – 30, 2015
Airing at 2am, 5am, 8am, 11am, 2pm, 5pm, 8pm, 11pm CDT
Video documentation from a performance, 53'15", La Box ENSA, France, 2014. Performance documentation by Alexia Morinaux.
Organized in conjunction with the Ghost Nature symposium, Following Nonhuman Kinds.
During a symposium at La Box, ENSA in Bourges, France, Every house has a door performs a different version of Testimonium — Testimonium (quiet form). Joan of Arc is not present. Instead Stephen Fiehn and Bryan Saner occupy the entire stage with a series of coordinated movements from the original piece. This is a quiet version, a version for a bi-lingual audience, a version focused on the choreography of objects within the original performance.
Every house has a door was formed in 2008 by Lin Hixson, director, and Matthew Goulish, dramaturge, to convene project-specific teams of specialists, including emerging as well as internationally recognized artists. Drawn to historically or critically neglected subjects, Every house creates performances in which the subject remains largely absented from the finished work. The performances distill and separate presentational elements into distinct modes – recitation, installation, movement, music – to grant each its own space and time, and inviting the viewer to assemble the parts in duration, after the fact of the performance, to rediscover the missing subject. Works include Let us think of these things always. Let us speak of them never. (2009) in response to the work of Yugoslavian filmmaker Dušan Makavejev,Testimonium (2013) a collaboration with the band Joan of Arc in response to Charles Reznikoff's Testimony poems, and the on-going project 9 Beginnings based on local performance archives.