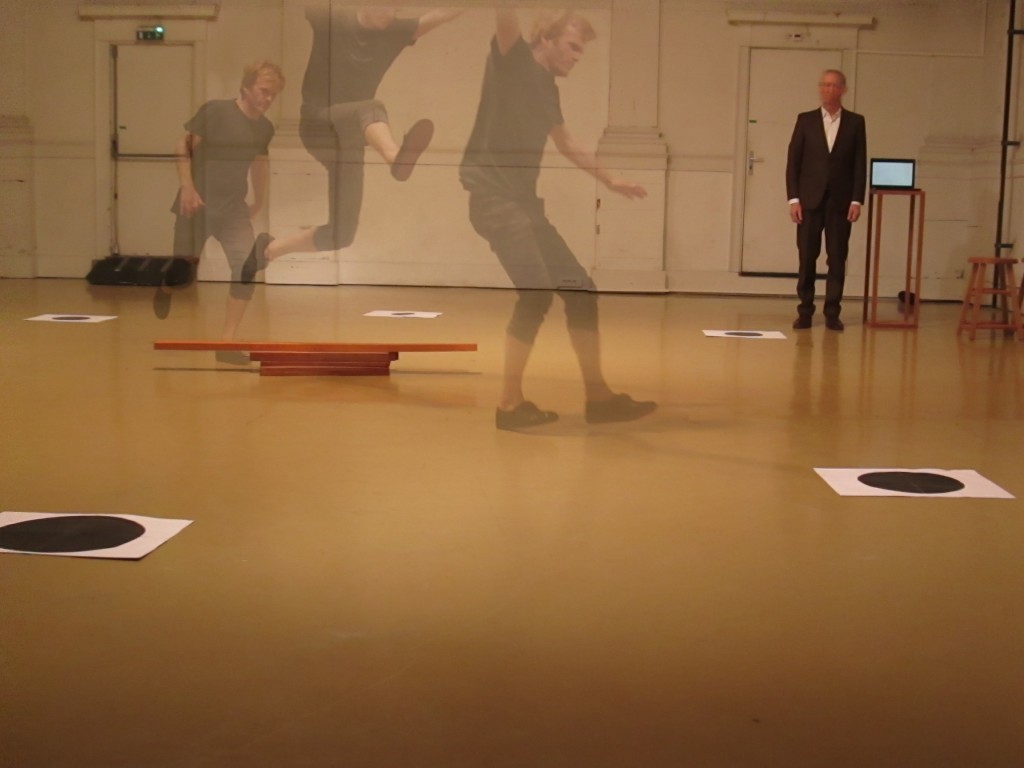 Still from video documentation, Every house has a door, Testimonium, Bourges, France.
Testimonium (quiet form) in Bourges, France
June 29 – 30, 2015
Airing at 2am, 5am, 8am, 11am, 2pm, 5pm, 8pm, 11pm CDT
Video documentation from a performance, 53'15", La Box ENSA, France, 2014.
Performance documentation by Alexia Morinaux.
Organized in conjunction with the Ghost Nature symposium, Following Nonhuman Kinds.
Presented by The Green Lantern Press
As part of ACRE TV Takeover
During a symposium at La Box, ENSA in Bourges, France, Every house has a door performs a different version of Testimonium — Testimonium (quiet form). Joan of Arc is not present. Instead Stephen Fiehn and Bryan Saner occupy the entire stage with a series of coordinated movements from the original piece. This is a quiet version, a version for a bi-lingual audience, a version focused on the choreography of objects within the original performance.
Every house has a door was formed in 2008 by Lin Hixson, director, and Matthew Goulish, dramaturge, to convene project-specific teams of specialists, including emerging as well as internationally recognized artists. Drawn to historically or critically neglected subjects, Every house creates performances in which the subject remains largely absented from the finished work. The performances distill and separate presentational elements into distinct modes – recitation, installation, movement, music – to grant each its own space and time, and inviting the viewer to assemble the parts in duration, after the fact of the performance, to rediscover the missing subject. Works include Let us think of these things always. Let us speak of them never. (2009) in response to the work of Yugoslavian filmmaker Dušan Makavejev,Testimonium (2013) a collaboration with the band Joan of Arc in response to Charles Reznikoff'sTestimony poems, and the on-going project 9 Beginnings based on local performance archives.