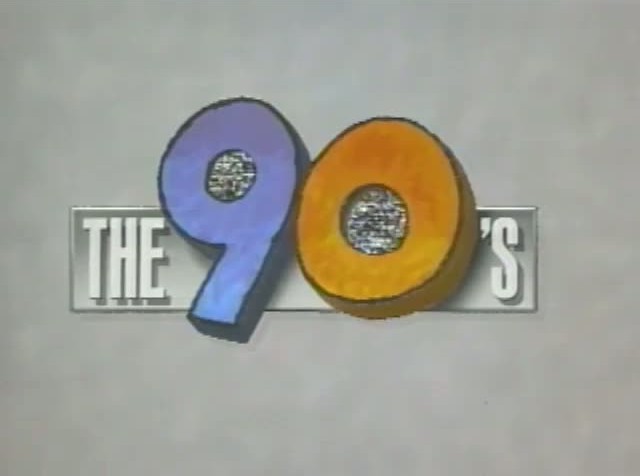 Presented by Media Burn Archive
As part of ACRE TV Takeover
June 22 – 28, 2015
Twenty-five years ago, something completely different was broadcast on public TV. No, not Monty Python…it was THE 90's.
"Easily the most important and innovative news show on the air, a show that does all the things that television was born to do but never does."—Michael Dare, Billboard, August 25, 1990.
THE 90's was independently produced and broadcast on PBS in prime time nationwide, featuring the kind of videos most people didn't know existed. This was before cell phones, before the Internet, before YouTube, the Daily Show, or "reality tv."
The pioneering award-winning weekly series piqued curiosity and challenged ideas about the world. It built an audience of millions on more than 160 public television stations.
In total, 52 hour-long episodes aired over four years.
The 25th anniversary of this groundbreaking show will be celebrated with a week-long online streaming marathon on ACRE TV, starting June 22. Viewers will get their only chance to watch, or re-watch, THE 90'sas it was meant to be seen: together, with people all around the world tuning in at the same time. It's an online TV marathon you don't want to miss!
Each episode will play 3-4 times on its designated day. Check out the schedule for each day below:
June 22: Pilot and Episodes 101, 102, 103, 104, 105, 106
June 23: Episodes 107, 108, 109, 110, 111, 112, 113
June 24: Episodes 201, 202, 203, 204, 205, 206, 207
June 25: Episodes 208, 209, 210, 211, 212, 213, 214, 215
June 26: Episodes 216, 217, 218, 219, 301, 302, 303, 304
June 27: Episodes 305, 306, 307, 308, 309, 310, 401, 402
June 28: Episodes 403, 404, 405, 406, Election Special: The Primary, Election Special: The Convention, Election Special: It's Debate-able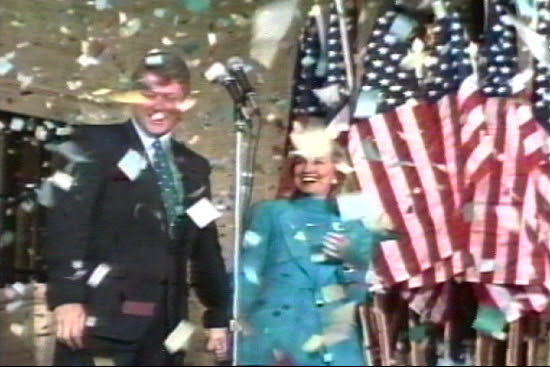 Photo: The Clintons celebrate their Super Tuesday win at the Palmer House in Chicago, 1992.
As its title suggests, the series was an ongoing televised mirror of that decade, focused around documentary content but with plenty of music, humor, counterculture, and offbeat politics …low budget, high concept.
Each episode was built around a general theme like money, taking chances, war, sex, hemp (marijuana), racism, television, everyday global realities, the street, saloons, addictions, food, kids and learning, prisons, and many more.
"More exciting and genuine than anything on television."—Studs Terkel.
THE 90's was created and produced by Tom Weinberg and Joel Cohen, veteran producers of dozens of documentary and television programs. The production was based in Chicago, but videos from hundreds of producers worldwide were selected and shown.
"What we did was less linear than conventional television, and more associative," said Producer Joel Cohen. "We try to combine images and impressions to make the whole larger than its parts."
Executive Producer Tom Weinberg said, "It's no accident that there wasn't an on-camera host. THE 90's came from an alternative television tradition that's now more than 40 years old. It wasn't plastic or homogenized. And we didn't shy away from political or artistic expression that may have been out of the mainstream.  We had a feisty attitude that came through every week."
There were regular appearances by Albert Einstein (animated), Vice President Dan Quayle, historian/author David Halberstam, Lady Aberlin (from Mr. Rogers), and performance artist Todd Alcott, among other notables.
An ensemble company of 90's "Camcorder Correspondents" included Joe Angio(Revenge of the Mekons, How to Eat Your Watermelon in White Company (And Enjoy It)), Jay April  (Maui Community TV), Eddie Becker (the Washington Outsider), Skip Blumberg (Videofreex, TVTV), Nancy Cain (CamNet, Videofreex), Patrick Creadon (I.O.U.S.A., Wordplay), Andrew Jones (Thumbs Across America, Panama: Just Cause?), Phil Morton (Yellowstone News), and Jody Procter (T.R. Uthco).
Works by hundreds of independent videomakers were seen on THE 90's, many for the first time on TV, including, Wendy Apple, Joe Berlinger, Judith Binder, Fred Bridges, Tony Buba, Shu Lea Cheang, Wendy Clarke, Joe Cummings, Doug Hall, Dee Dee Halleck, Bob Hercules, Scott Jacobs, Tony Judge, Ricki Katz, Chip Lord, Chuck Olin, Jody Procter, Michael Prussian, John Schwartz, Brian Springer, Jeff Spitz, Bill Stamets, Jim Sternfield, Starr Sutherland, and Joe Winston among others.
All 52 episodes of the show, as well as more than 500 hours of camera original footage created by independent producers, have been preserved and made digitally available by Media Burn Archive, a project of Fund for Innovative TV, independent producer of THE 90's.
Funders for the series included the John D. and Catherine T. MacArthur Foundation, Corporation for Public Broadcasting, PBS Program Fund, Rockefeller Foundation and Instructional Telecommunications Fund (which later morphed into "Free Speech TV" and Voqal TV).
The final three hours were shown nationally as part of the highly acclaimed PBS prime time national coverage of the 1992 election campaign. It featured previously unprecedented and intimate footage with Bill and Hillary Clinton and their team (including Paul Begala, James Carville, Rahm Emanuel, Dee Dee Myers, George Stephanopoulos, and David Wilhelm) before they were household names.
Other segments revealed the presidential campaigns of Paul Tsongas, Jerry Brown, Ross Perot, and George H.W. Bush, as well as the historic debates and the Clinton "War Room." The immense historical significance of this footage was recognized by the "Save America's Treasures" program of the National Endowment for the Humanities in 2011 with a grant of $79,000.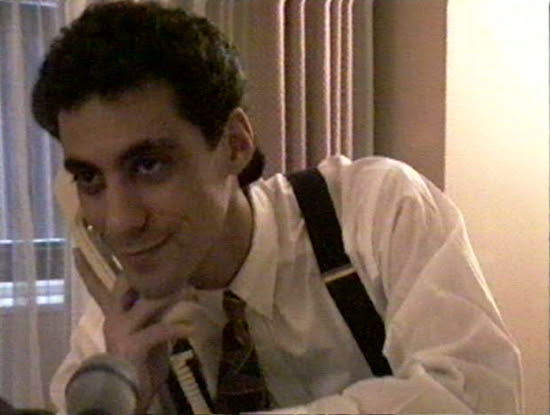 Photo: Rahm Emanuel fundraising for the Clinton campaign in 1992.
"It's THE 90's–something new and important is happening on television. Videotapes produced from ordinary people from around the world, revealing people and ideas you don't usually see on T.V."