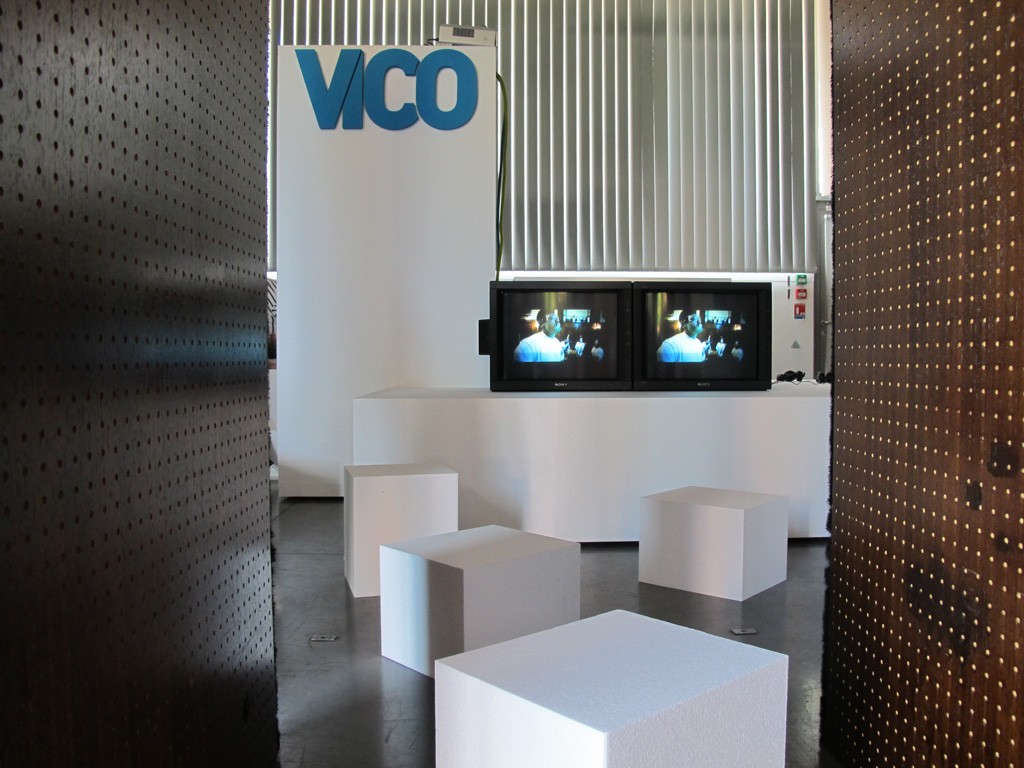 VICO, videoclub of expanded operation
Airing July 2016
Programmed by Raul Benitez
A project started by Chloé Fricout and Javier Toscano
(Ongoing operations by Javier Toscano)
elvico.net
VICO is a dynamic device, a portable mini-archive of video that has been activated through different tasks and in different environments. As it was launched, it was articulated over a nomadic chassis that traveled to different places for its exhibition and operation. It then became an interpersonal hub, linking institutions and individuals, with the aim of researching current artistic audiovisual practices, the conformation of local identities, media-based political expressions and other sociocultural configurations of the mediasphere. Its objective has been to study and affect in different forms the cultural inertias of a collective visual memory in Mexico.
One of its most active components is the seminar-workshops of civic engagement Countermontages, a pedagogic structure that guides participants into the use of epistemological tools and works as a platform fro the production of video pieces through tactics of appropriation and critical analysis. One of the main objectives of this workshop is the understanding and deconstructing of the visual violence that surrounds the participants' environment. By using theoretical procedures and sensing the possibilities of a "critical montage", participants empower themselves to refunctionalize materials that are disseminated over the internet, creating thus a certain meaning out of available materials, and getting for themselves the possibilities to translate visual violence into common understanding. Through the integration of these production workshops, the VICO activates an archive of visual elements that serves as a point of departure towards a critical assessment in a convulsive surrounding.
The project started in 2011. The VICO has been steered by a small troupe that includes the initiators, and a group of designers and programmers. It works both on the territory of the visual arts, and approaches communities with a given interest in contemporary media (students from different fields, social activists and other engaged citizens). All the materials included in the project comply with a Creative Commons license, so that all the faculties on sharing, donating, distributing and screening can be openly managed.
Up till now the project has been focused on the setting up of the archive, by building direct contacts with the community it serves. We have accumulated an archive of +200 video pieces, including works from some of the most prominent authors of the video art scene in Mexico. In its most recent stage, the project has shifted its priorities to the development of the workshops, in order to unleash the productive forces of a critical approach in the field. Nevertheless, all along the process, the project has been presented with all its modules in some of the main museums in Mexico City, and has organized exhibitions and screenings in different venues in France and the US.
During the month of July ACRE TV will air moving image works from the VICO archive featuring:
July 1 – 10 //
Guillermo Amato, Zz in mvd, 2004
Marcela Armas, Exhaust, 2009
Simon Gerbaud, Caduco, 2008
Ricardo Harispuru, Sublimacion, 2004-2006
Ulises Fierro, 379 dias, 2007-2010
Gabriel Acevedo Velarde, 23 nov 07 – I told you, 2007
Vinny Morales-Kultnation, All that is solid melts into the air, 2009
Mauricio Limón, El Libro de las letras, 2010
Amanda Gutiérrez, Scarlet Nicaragua, 2009
Iván Edeza, Ejecución, 2009
Gilberto Esparza, Star Wey, 2004
Diana Ma. González Colmenero, Desde recuerdo mi casa, 2009
Artemio and Raul Luna, Gladiador, 2004
Viumasters, Xochilimilco 1914, 2010
Enrique Arriaga, Animal Magnetism, 2011
Carlos Iván, Uploaded, 2011
Iris Díaz, Bagetela no. 4, 2011
Sarah Minter, Street Symphony, 2006
Javier Ocampo, Untitled, 2011
Paola Gallardo, Recorrido, 2011
Ollin Miranda, Capturing light, 2011
Irene Valenti and Javier Toscano, A brief history of material needed, 2011
Hazel Boyer and Chloé Fricout, Projects, 2011
Javier Toscano, System error (deaf proof) 2.1.exe.unleash, 2010
Alfredo Salomón, Round en la sombra, 2007
July 11 – 20 //
Enrique Maraver, Reflejo UV, 2011
Karenina G.M, Aurelia, 2011
Roberto Lopez, Caballero, 2011
Johnny Trujillo, Ana Luisa Tejeda Córdova, 2011
Bruno Varela, Compulsion 1, 2009
Tania Candiani, The Hour of a Star, 2011
Omar Casillas, Chiquiti Rockers, 2010
Paola Godinez, Channel, 2010
Esteban Azuela, Ventosa, 2008
Victor Martínez, Cutting Edge, 2008
Carolina Alba, Over 60, 2013
Simon Gerbaud, Amatlán, 2010
Josué Vázquez, (Mis) Múltiples Suicidios, 2011
José Antonio Vega Macotela, Platoon, 2011
Daniel Toca, 18 seconds before sunrise, 2011
Gitte Bog, Pájaros, 2008
Juan Pablo Avendaño and Jorge Perez Escamilla, Rotación in memoriam, 2011
Andrés Padilla Domene, Potencial de reposo, 2013
Chloé Fricout and Javier Toscano, VICO projects
July 21 – 31 //
Chloé Fricout, Los Medios Del Lenguaje, 2012
Carla N. Martínez, Las miradas situadas, 2013
Héctor Jiménez, Coatetelco, 2013
Osmara Gámez, Ensamble, 2012
Emil García, Vuelo y caída, 2012
Senor N., Vaso Rojo y Bukanans, 2013
David Moreno Ramirez, Espacio Público como Escenario Sistema de Transporte Colectivo Metro, 2012
Carlos Cruz and Grisel Castro, Sentir – Tocar, 2012
Alicia Fernández, Soundgraphy of memories, 2013
David Mariscal Estrada, La guerra de Vietnam en el cine ficcion, 2013
Edgar Gopar, Fotomatón, 2012
Dulce Rosas, Mis quince anos, 2012
Jimena Vidal, Royó la cuerda y cai, 2012
Alejandro Rosado, Aglomerados, 2012
Erika Loana, Television hero, 2013
---
Raul Benitez has been involved with the Chicago Film Community through the Chicago Underground Film Festival for the past 10 years. He has previously volunteered for The Chicago Cinema Society before taking over the film programming at Comfort Station Logan Square in 2013. He has partnered or programmed with Chicago Film Makers, Little Mexico Film Festival, First Nations Film Festival, Reeling Film Festival, Chicago Film Archives, Beguiled Cinema, CIMM Fest, La Guarimba Film Festival, South Side Projections, DollHouse DIY, The Wretched Nobles of the Exiled Dynasty, Kartemquin Films, ACREtv, Moving Image Arts, Cinema Culture and Nerivela Mexico. Currently he is programming at Comfort Station Logan square, screening movies and volunteering for this years Chicago Underground Film Festival and voluntered for Onion City Festival. Raul was named by New City as a Chicago Screen Gem of 2015 and his outdoor film series for Comfort Station was named by The Chicago Reader(2013) and New City(2015) as the best outdoor film series in the city.
Chloé Fricout is coordinator and producer at the Pavillon Neuflize OBC (Palais de Tokyo, Paris) and independent curator. She started her career in Mexico, where she worked in different museums and art centers. She presented there Glorieta, an exhibition on video art on urban representations (Museo Ex-Teresa Arte Actual, 2007) and Traslaciones, dedicated to architectonic interventions (Casa Vecina, 2009). She was in charge of artistic projects at Casa Vecina in Mexico City (2009-2010) and co-curated between 2011-2014, VICO, videoclub of expanded operation. 
Javier Toscano is a filmmaker, visual artist, writer, tactical urbanist and critical geographer. He was a founding member of Laboratorio 060 (lab060.org, 2003-2013), an interdisciplinary team that worked around contemporary art topics. Together they won the first prize, the Best Art Practices Award (Bolzano, Italy, 2008), for their project Frontera, A sketch for the creation of a future society, and an Honorary Mention for their project The Cause (CDA-projects, Istanbul, Turkey, 2012). He is also a founding member of the Nerivela collective (nerivela.org) based in Mexico City, and who recently participated in the Venice Biennale for Architecture (2016) with a project on social reconstruction. He is also part of the MonadenScience collective, active in Europe, with whom he works at the crossroads of social sciences, urbanism, film and artistic practices. His book on Walter Benjamin (Un mundo sin Dios, pueblo de fantasmas) won the First Accésit at the Essay Prize from the University of Navarra, Spain, in 2006. He holds a PhD in Philosophy on a double program at UNAM in Mexico and the Freie Universität in Berlin (DAAD Fellow 2009-2010). He has been awarded post-doc fellowships in Paris (Université de Paris IV-Sorbonne, 2012) and Berlin (FU Berlin, 2014-2016). He is currently a member of the steering committee of the International Critical Geography Group (icgg.org) and develops the VICO, videoclub of expanded operation, in its second stage (elvico.net).