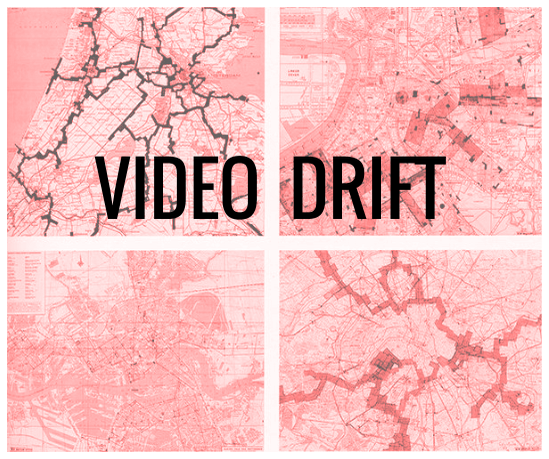 Video Dérive (drift), is a collective project that activates the subjective experience of a walk within an urban context, documenting several group journeys into one single time line and digital map. The Drift will be guided by a video broadcast on ACRE TV, indicating specific instructions for users to follow and document through their mobile devices. The Drift responses will be updated and shared from several locations in Chicago, Illinois and Mexico City via the artist collective Nerivela.
The videos, photos and sound captured will be edited into a single video which will air on ACRE TV as a part of Direct Object/Direct Action.
Each drift will begin at Threewalls, 119 N Peoria #2C, and will be held on:
Saturday, March 7th, 11 am CST &
Sunday, March 15th, 11 am CDT
Or, take part from anywhere by following the instructions airing simultaneously on ACRETV.org and using the videodrifts.com app to pin your documentation to the map.
The collective map can be viewed at: mitchsaid.com/drift/acre_map.html
The resulting video will air on
ACRETV.org
TBA
Amanda Gutiérrez
The concepts of memory, home and landscape are closely related in my current work. This exploration arises from formal strategies in documentary and oral recreation, while media techniques such as photography, video, and sound are the main tools to assembly its narrative processes. It is in migrating to the United States, and in the constant movement between two residences — Chicago and Mexico City — that two important themes arose: migration and the construction of identity through architecture.
amandagutierrez.net
and 
pilsenderive.tumblr.com
Mitch Said is a South African-born digital artist and designer currently residing in Chicago, with an abiding interest in mobile computing, locative art, and online mapping. He's created interactive digital experiences for a variety of projects and partners, including MoMA and musicians OK Go. He holds a MPS from New York University's Interactive Telecommunications Program and and MDA from the University of the Witwatersrand in Interactive Media.
mitchsaid.com
Nerivela is a conceptual platform that uses alternative methods of thought and production to reflect on the surrounding world. We are a collective of artists developing practices that seek to undermine contemporary models of production, working with possibilities and methods that exist on the fringes of what we are able to see. By transmuting and re-articulating meaning in our artistic interventions, we create multiple possibilities for understanding visual and verbal languages. It's a question of finding new syntax, dislocating old semantic meanings and creating provocative and novel forms. What emerges from this process of transliteration is a symbol that exists on a sheet of paper, which stands for a surface, a street, or an entire city: this symbol is our point of departure and also our destination. nerivela.org