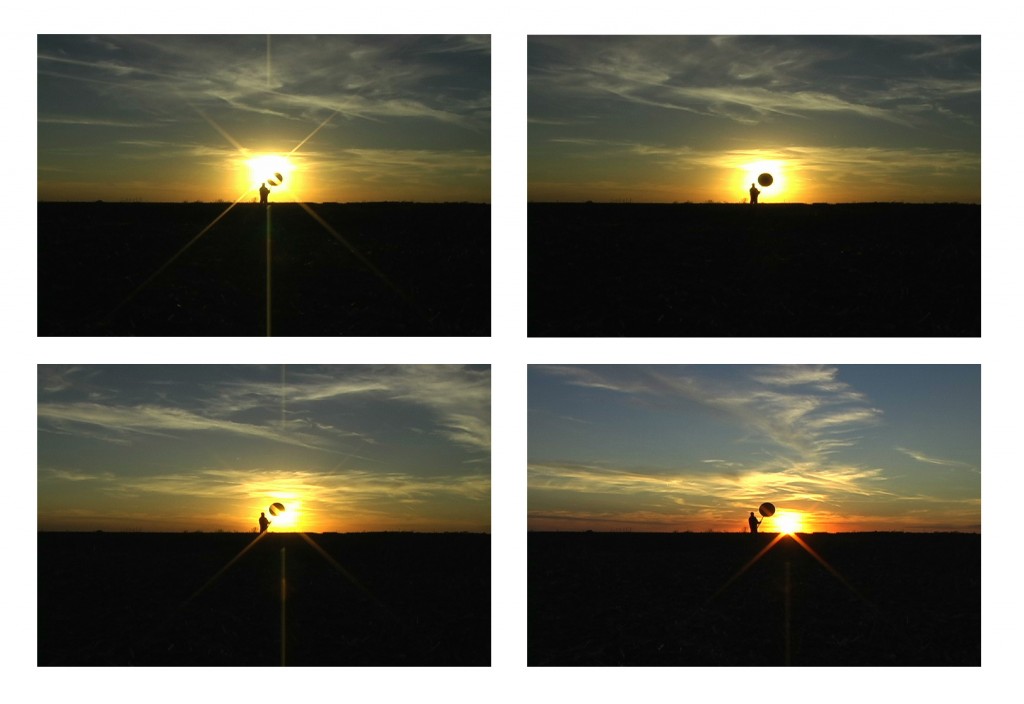 Collin Bradford, Eclipsing the Sun, 2014. Video stills.
ACRE TV is pleased to present:
ACRE TV
Online at ACRETV.org
April 1-May 31, 2015
Fernwey Gallery
916 N Damen Ave
April 3-April 26, 2015
Opening reception: April 3, 6-9pm, Fernwey Gallery
Inspired by the long dark winters of Chicago, this exhibition focuses on the Sun at a time when it is missed the most, moments before springtime. As an object that is both illuminating and unseeable, the experience of the Sun is dominated by metaphor and myth. Were the Eye Not Sunlike channels the mythologization of the Sun and our relationship to its immeasurable power.
Beginning on April 1, a three-part video program will unfold on the artist-made livestreaming platform ACRE TV. The program begins with Sunrise and its thematic associations of stillness, ritual and intimacy. Reflecting the course of the earth-bound day, the following program, High Noon, tracks the warmth and optical energy of a bright, full sky. Sunset, the final chapter, evokes impending darkness, melancholy, loss and reflection.
Sunrise: April 1 – April 19 | High Noon: April 19 – May 10 | Sunset: May 10 – May 31
Meanwhile, from April 3 – April 26, Fernwey Gallery presents the physical iteration of Were the Eye Not Sunlike with work in photography, sculpture and installation. Featuring Lauren Edwards, Assaf Evron and Danny Giles, the exhibition proposes its own strain of the solar metaphor, imagining the Sun as an object of theater and a distant dictator in the sky. The exhibition includes a printed publication designed by Mia Nolting with essays by Third Object and Danny Floyd.
PARTICIPATING ARTISTS
ACRE TV
Christopher Bailey & Charles Woodman, Tony Balko, Tommy Becker, Sarah & Joseph Belknap, Blair Bogin, Patrick Andrew Boivin & Stèphane Charpentier & Alyssa Moxley, Laura Bouza, Collin Bradford, Dana Carter, Kate Casanova, Karen Y. Chan, Sarawut Chutiwongpeti, Sara Condo, Silvana D'Mikos, Thomas Dexter, Alexei Dmitriev, Mike Gibisser, Max Grey, Ilan Gutin, Amy Hicks, Sam Hoolihan, Stephanie Hough, Cassandra C. Jones, Jeremiah Jones, Jason Judd, Meredith Lackey, Robert Ladislas Derr, Christine Lucy Latimer, Karl Lind, Chris Little, Ying Liu, Laura Mackin, Elina Malkin & Jónó Mí Ló, Pablo Marín, Eden Mitsenmacher, Rebecca Najdowski, Matthew-Robin Nye & Marc Wieser, Aaron Oldenburg, Jae Pas, Andrew Payne, Chris Rice, Jean-Michel Rolland, Andrew Rosinski, Ben Russell, Eeva Siivonen, Fern Silva, Rachael Starbuck, Eric Stewart, Takahiro Suzuki, John Szczepaniak, Patrick Tarrant, Robert Todd, Penelope Umbrico, Eileen Rae Walsh, Eric Watts, Yehoshua
FERNWEY GALLERY
Lauren Edwards, Assaf Evron, Danny Floyd, Danny Giles, Mia Nolting
Full ACRE TV program information
HERE