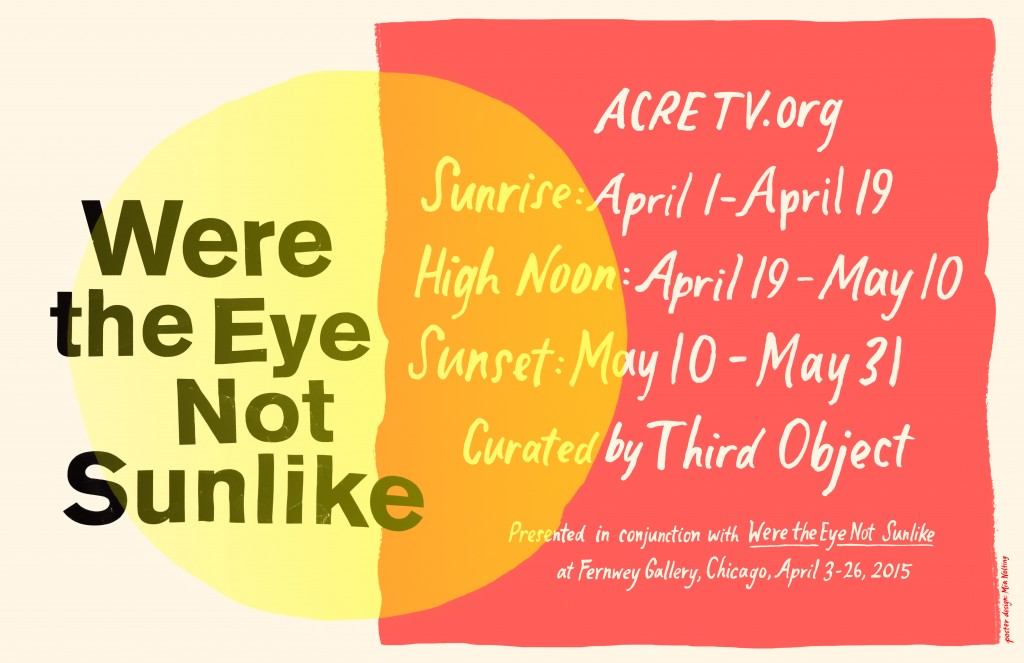 We are pleased to offer a lamp that turns on and off when you clap, when you clap your eyes. A lamp that lets you see in the dark without disturbing the dark. A lamp producing natural light. A lamp that when you clap turns on and on.
– Ben Lerner, Angle of Yaw
Were the Eye Not Sunlike Program
PROLOGUE, April 1-3, 2015
Penelope Umbrico, Sun Burn (Screensaver), 05:00, looped
SUNRISE, April 3-19, 2015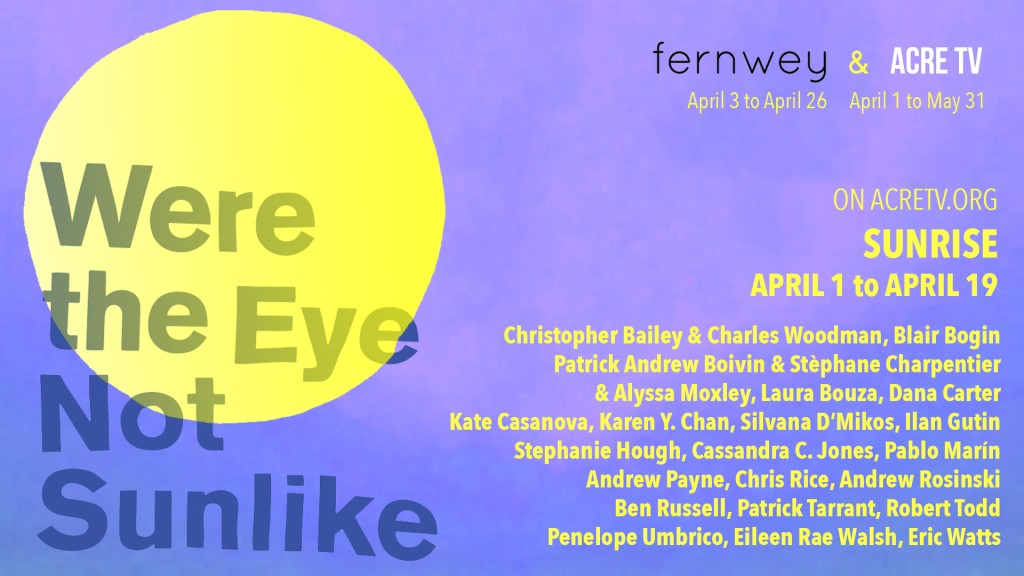 Dana Carter, Aurora, 00:34
Patrick Andrew Boivin, Stèphane Charpentier and Alyssa Moxley, Pieces of Time We Taped on the Hills, 08:14
Eric Watts, Sunrise Chart, 00:23
Eric Watts, Yukon Radio, 01:01
Cassandra C. Jones, Takeoff, 00:11
Eileen Rae Walsh,The Sky, 00:55
Stephanie Hough, Instant Calm, 06:08
Christopher Bailey and Charles Woodman, Megurs Ehd Ffleweh Bq Nsolst, 09:36
Laura Bouza, Eight Women, 29:00
Andrew Payne, Light and Shadows 6, 01:00
Andrew Rosinski, Beads II, 07:21
Karen Y. Chan, Myths, 01:00
Eric Watts, Studio Sunset, 30:34
Pablo Marín, Sin título (abril), 03:34
Ben Russell, Greetings to the Ancestors, 28:53
Kate Casanova, Rise and Fall (Beijing), 02:04
Blair Bogin, Galileo and Selfies, 02:01
Chris Rice, So This is What You Do With Your Time Off, 03:07
Silvana D'Mikos, Time Perception, 24:24
Patrick Tarrant, Brokenflo, 10:00
Robert Todd, Within, 05:56
Ilan Gutin, Íslenska, 42:51
214 min 47 sec (03:38:47), looped
HIGH NOON, April 19-May 10, 2015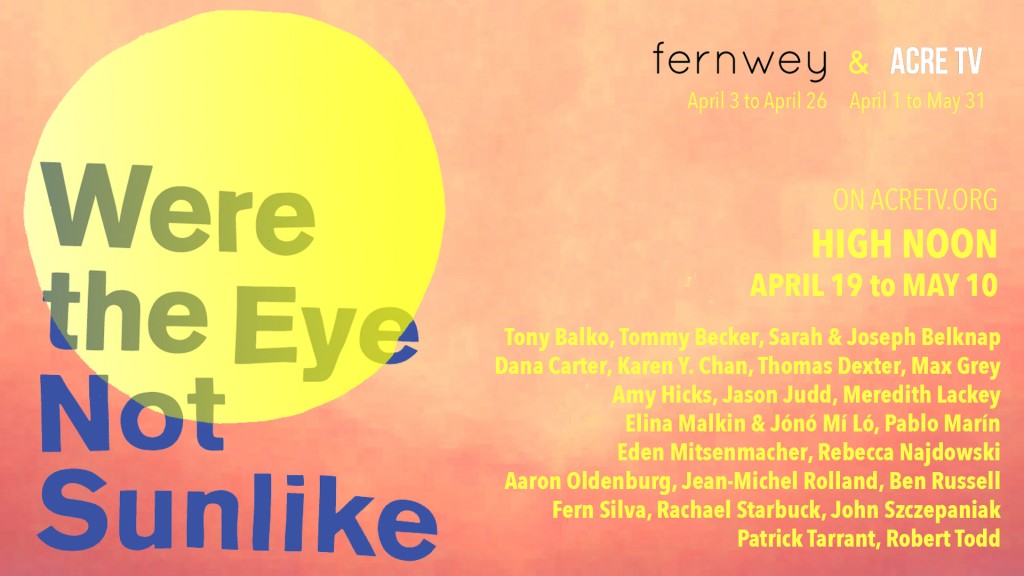 Dana Carter, Azimuth, 00:29
Rachael Starbuck, Transfer of Attention (1), 02:03
Ben Russell, Trypps #7 (Badlands), 09:58
Jean-Michel Rolland, Cicadas in the Sun, 06:02
Max Grey, Untitled (white), 02:15
Robert Todd, Short, 04:43
Meredith Lackey, Nature Gaping, 02:49
Rachael Starbuck, Transfer of Attention (2), 02:32
Patrick Tarrant, The Take-Up, 10:54
Pablo Marín, film, 03:24
Fern Silva, Passage Upon the Plume, 06:35
Rachael Starbuck, Transfer of Attention (3), 01:45
Tommy Becker, Pulling Down the Sky to Give You the Sun, 01:57
Rebecca Najdowski, Untitled (Sun), 02:33
Karen Y. Chan, Pilgrimage, 04:30
Karl Lind, A Brief Portrait of the Eternal Recurrence, 00:32
Amy Hicks, Luminiferous Aether, 05:50
Elina Malkin & Jónó Mí Ló, Untitled #11 (excerpt), 04:58
Rachael Starbuck, Transfer of Attention (4), 02:02
Sarah & Joseph Belknap, Joseph Lights Sarah's Cigarette With the Sun, 00:40
Tony Balko, Emotional Sundiving, 15:26
Thomas Dexter, Optick I: Blinded, 10:57
Eden Mitsenmacher, A Poem For You, 01:57
John Szczepaniak, A Bao A Qu, 04:22
Aaron Oldenburg, The End Sands, 03:28
Jason Judd, Into the Sun, 03:27
Dana Carter, ZombieBling, 00:26
137 min 52 sec (02:17:52), looped
SUNSET, May 10-31, 2015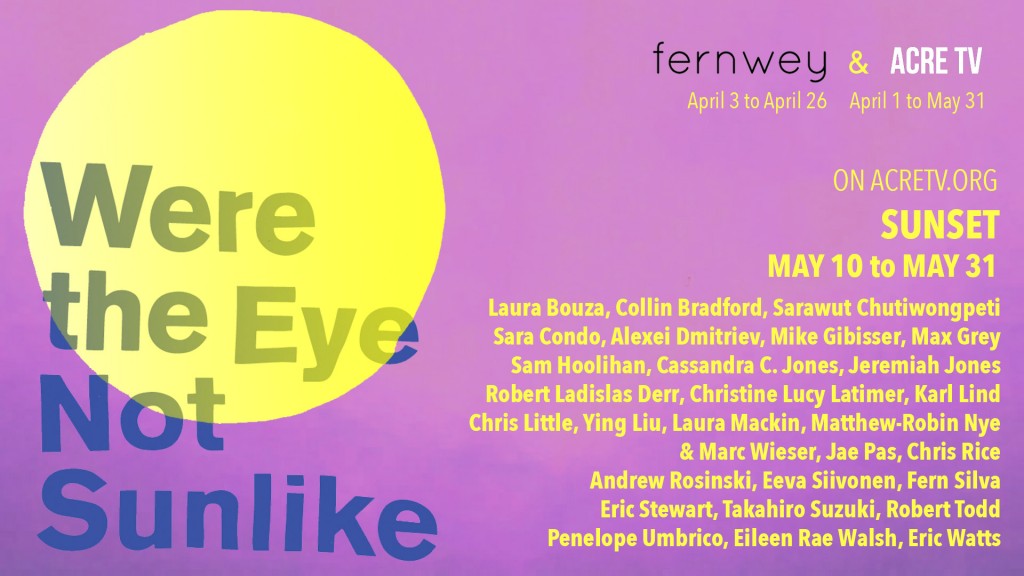 Dana Carter, Arrhythmia, 00:33
Robert Todd, LoveSong, 05:57
Mike Gibisser, Day of Two Noons, 70:01
Laura Bouza, Naomi and Irving, 04:00
Laura Mackin, Dean Sunsets, All of Them (1952-2006), 01:31
Eric Stewart, Wake, 07:51
Sara Condo, Sunset Over the Wonder Valley (For Barbara), 10:50
Takahiro Suzuki, That Which Moves the Sun and Stars, 08:32
Eeva Siivonen, Star, Light, Nothing, 01:42
Andrew Rosinski, A Beach, 02:17
Eileen Rae Walsh, Paradise, 02:01
Sarawut Chutiwongpeti, Untitled (Wishes, Lies and Dreams), 09:48
Jeremiah Jones, Gallows (High Noon), 11:28
Collin Bradford, Accelerating the Sunset (by riding a bicycle away from the sun as fast as I can), 38:13
Eric Watts, 9th Ave Sunset, 06:06
Christine Lucy Latimer, The Pool, 04:13
Max Grey, Untitled (together), 02:54
Sam Hoolihan, Sun Song, 05:01
Fern Silva, Windsor Roll, 03:03
Christine Lucy Latimer, nationtime, 01:40
Alexei Dmitriev, Hermeneutics, 03:15
Penelope Umbrico, Neverending Sunset (Second Life), 12:27
Ying Liu, Ham Over Rice, 03:39
Cassandra C. Jones, Eventide, 05:06
Mathew-Robin Nye and Marc Wieser, In a Flash, 13:24
Jae Pas, Sun of Venice, 04:59
Chris Rice, Tommy Sky, 02:09
Collin Bradford, Eclipsing the Sun, 14:00
Chris Little, Capt. Jack Sparrow and Ernest Miller Hemingway, 01:01
Robert Ladislas Derr, Sun Sunset Set, 20:19
280 mins  (04:40:06), looped
For more information regarding Were the Eye Not Sunlike's gallery component, please visit fernwey.com.
Were the Eye Not Sunlike is curated by Third Object, a curatorial collective based in Chicago. thirdobject.net