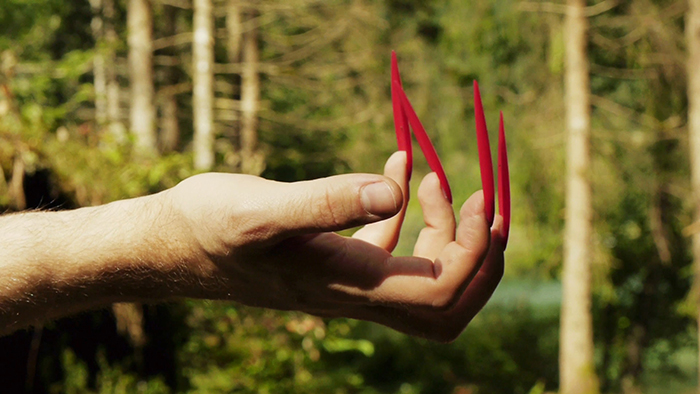 image: Jaakko Pallasvuo, Utopia, video (still), 2013, 6 minutes 40 seconds.
Courtesy of the artist.
Normal Reality presents twelve artists from the U.S., Canada, and Europe, whose embrace of popular digital technologies raises questions about normalcy in the age of accessibility. The exhibition is on view at University Galleries of Illinois State University through September 9, 2015. University Galleries is partnering with ACRE TV to broadcast videos from the artists in groups of three, producing four weekly segments.
Airing at 12 pm, 6 pm, and 9 pm CDT
Each day from August 5 – 31, 2015
While off air, an interstitial looping video will display information on the exhibition, other viewing locations, and upcoming broadcast times.
Organized by University Galleries' Curator Jason Judd
---
Week 1: August 5 – 11 /
Petra Cortright, Mariam Graff, and Kathy Rose
Petra Cortright
Sparkling I, 2010
Webcam video, 1:35 minutes
Courtesy of the artist and Foxy Production, New York
Performing in front of a built-in webcam with preset digital effects, Petra Cortright (Los Angeles) nonchalantly waves a tree branch like a magic wand that dissolves into sparkling star effects with its own fairytale like soundtrack.
Mariam Graff
Magic Show, 2015
Single channel video, 13.26 minutes
Courtesy of the artist
Mariam Graff's (Fairview, IL) Magic Show, staged in a "green screen" studio and features multiple characters all played by herself, uses kitschy special effects and theater-like narrative to reference the creation of identity through the relationship between technology, entertainment, and ultimately the inner workings of the artistic process itself.
Kathy Rose
The Realm of Nothingness, 2013
Single channel video, 5:41 minutes
Courtesy of the artist
Kathy Rose (New York) is known for the hand-drawn animated films she made in the 1970s and dance-related films in the 1980s and 90s, which led ultimately to her current videos inspired by Japanese Noh theater.
---
Week 2: August 12 – 18 /
Andrew Rosinski, Jaakko Pallasvuo, and Shana Moulton
Andrew Rosinski
Island Light, 2013
35mm film transferred to single channel, HD video, 3 minutes
Courtesy of the artist
Sound design by Morgan Evans-Weiler
In Island Light, Andrew Rosinski (Chicago, IL) uses rhythmic repetitions of nostalgic still images from vacation photos to create storylines that are periodically broken by kaleidoscopic abstractions of airplanes, clouds, and the sun.
Jaakko Pallasvuo
Utopia, 2013
Single channel video, 6:40 minutes
Courtesy of the artist
In Utopia, Jaakko Pallasvuo (Helsinki) dispassionately relates, in the manner of director's commentary on a DVD, his failure to capture in video—as opposed to language—the essence of an idyllic Swedish landscape we view on the screen.
Shana Moulton
MindPlace ThoughtStream, 2014
Single channel video, 11:57 minutes
Courtesy of the artist
Shana Moulton (New York) explores contemporary anxieties through her filmic alter ego, Cynthia, who in MindPlace ThoughtStream searches for psychological and physical wellness through ultra-commoditized products that result in disorientation rather than piece of mind.
---
Week 3: August 19 – 25 /
Sabrina Ratté, Rosa Menkman, and Brenna Murphy
Sabrina Ratté
The Land Behind, 2013
Single channel video, 4:56 minutes
Courtesy of the artist
Sound by Roger Tellier-Craig
Sabrina Ratté's (Montreal) videos are reminiscent of broken tube televisions. Unlike the strange lines made by degraded TVs, her abstract lines dance and move around the screen with intention and grace, manipulated either by her hand or by video processing.
Rosa Menkman
I might, in the end, be no more than a reflection of your imagination, 2014
Xilitla game recording, 1:30 minutes
Courtesy of the artist
Rosa Menkman's (Arnhem, Netherlands) video game Xilitla was inspired by the Gardens of Las Pozas—deep in the northern mountains of Mexico—where an eccentric British millionaire, Edward James, created a garden as absurd as an Escher drawing. The video game recording mimics the pathways to nowhere in a digital garden with a faceless white character who can be seen as a stand-in for James or, perhaps, ourselves.
Brenna Murphy
central~lattice, 2013
Single channel video, 1:04 minutes
Courtesy of the artist
Brenna Murphy's (Edmunds, WA) psychedelic video central-lattice fuses real yet banal footage and three-dimensional rendered objects, suggesting connections between ancient forms like mandalas and current technology.
---
Week 4: August 26 – 31 /
Jon Satrom, Malgosia Woznica, and Wolfie E. Rawk
Jon Satrom
QTzrk_loop, 2011
Single channel video, 3:12 minutes
Courtesy of the artist
Jon Satrom (Chicago) controls a glitch when he opens a Quicktime video of a shark hunting a seal, unleashing a symphony of ecstatic computer windows that reproduce and disintegrate into a chaotic yet formally appealing meltdown.
Malgosia Woznica
floVV, 2011
Single channel video, 10:24 minutes
Courtesy of the artist, Audio by AIM23 – "Distant Silence"
In floVV, Malgosia Woznica (Warsaw), otherwise known as V5mt, slowly distorts images of ancient sculptures and pop icons revealing that the digital image is as malleable as paint or clay.
Wolfie E. Rawk
Implicit Bias – ghost in the shell, 2013
Screen recording, 5:44 minutes
Courtesy of the artist
Wolfie E. Rawk (Chicago) is a transgender artist who, in a screen recording of a Google search, begins to type a series of possible questions, but before they can complete their sentences, Google automatically finishes their question with previous popular searches, thus reflecting the collision of multifaceted personal and cultural elements involved in the creation of stereotypes.