ACRE TV is pleased to present: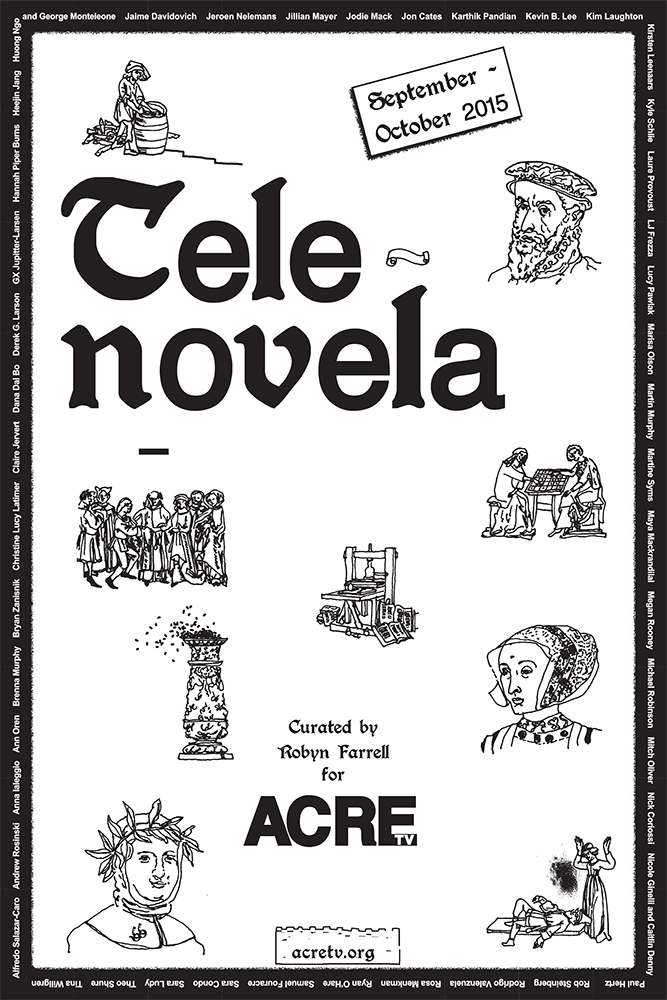 Poster Design: Kyle Schlie
Curated by Robyn Farrell
September 1 – October 31, 2015
Tele-novela is a genre of limited-run drama series popular on Latin American, Portuguese, and Spanish television networks. The term combines tele, short for televisión or televisão (Spanish and Portuguese words for television), and novela, a Spanish and Portuguese word for "novel". Symbolic, social, or technological, Tele-novela mimics the serial and structural nature of the pop cultural programs, but moves from linear story to abstracted narrative, and experimental play by electronic means. Arranged in three-part acts and ranging in media–video, sound, animated GIFs–and durational formats, the sequential productions on ACRE TV present a departure from their operatic tradition in favor of abstracted realities and dispersed fictions that simultaneously explore
and avoid the notion of formal narrative on screen.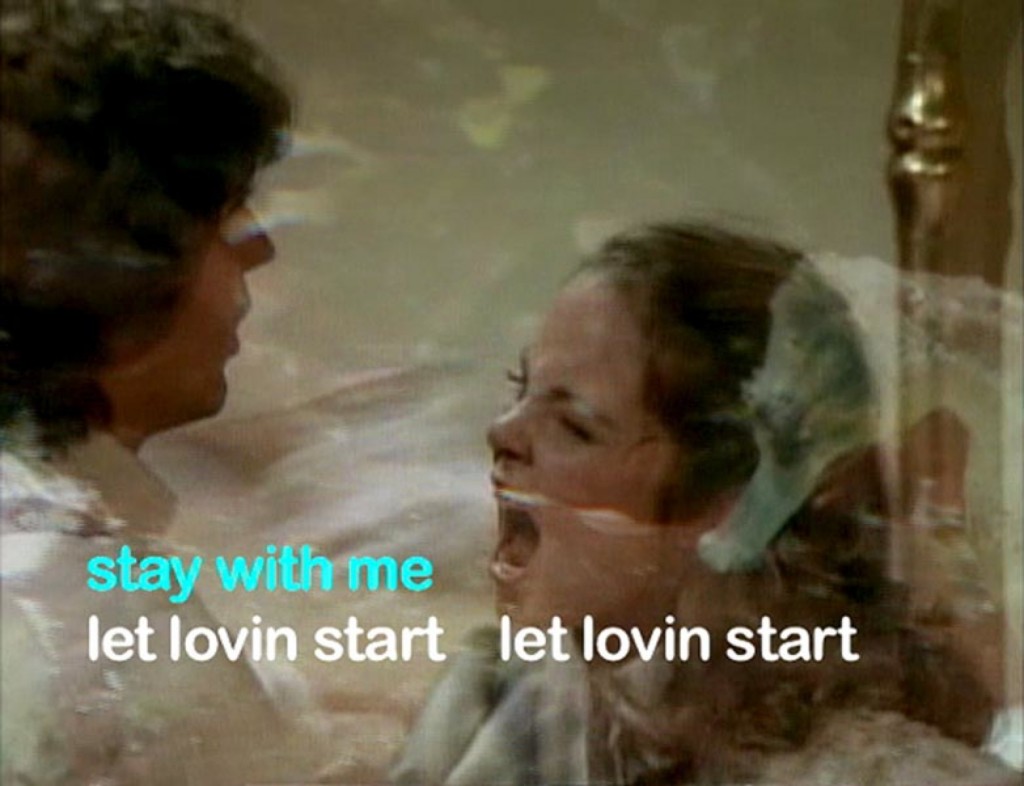 Michael Robinson, Hold Me Now, 2008. Courtesy the artist and Carrie Secrist Gallery.
Tele-novela includes work by Laure Provoust, Marisa Olson, Sara Ludy, Michael Robinson, Alfredo Salazar-Caro, Brenna Murphy, Megan Rooney, Jon Cates, Martine Syms, Jodie Mack, Kevin B. Lee, Kirsten Leenaars, LJ Frezza, Nick Corirossi, Maya Mackrandilal, Rosa Menkman, Sara Condo, Paul Hertz, Martin Murphy, Kim Laughton, Jillian Mayer, Andrew Rosinski, Anna Ialeggio, Claire Jervert, Lucy Pawlak, Rob Steinberg, Samuel Fouracre, Jaime Davidovich, Tina Willgren, Kyle Schlie, Heejin Jang, Christine Lucy Latimer, Dana Dal Bo, Huong Ngo & George Monteleone, Mitch Oliver, Hannah Piper Burns, Derek G. Larson, Theo Shure, Ryan O'Hare, Rodrigo Valenzuela, Caitlin Denny & Nicole Ginelli, Jeroen Nelemans, GX Jupitter-Larsen,
Bryan Zanisnik, Karthik Pandian, Ann Oren.
Artist pages and more details
here
.
October 25, 2-4 pm 
SCHEDULE:
Narrative Program

//
Sept. 1 – 3:
Megan Rooney – Tilia Americana, Jaime Davidovich – The Pope Show, Kirsten Leenaars – On Our Way to Tomorrow, Kim Laughton – Siliconscious, Kevin B. Lee – Shades of Led
Sept. 4 – 6:
Rodrigo Valenzuela – Maria TV, Martine Syms – Lessons: 1-2, Maya Mackrandilal – Kal Pani, Martine Syms – Lessons: 3-4, Andrew Rosinski – AIMA
Sept. 7 – 9:
GX Jupitter-Larsen – A Noisy Delivery, Martine Syms – Lessons: 5-6, Nick Corriossi – Correctamundo, Martine Syms – Lessons: 7-8
Sept. 10 – 12:
Hannah Piper Burns – outer darkness, Martine Syms – Lessons: 9-10, Dana Dal Bo – "…Still in the Running Towards Becoming…", Martine Syms – Lessons: 11-12
Sept. 13 – 15:
Bryan Zanisnik – Post Attica Reforms, Martine Syms – Lessons: 13-14, Sara Condo – Dreamgirl, Martine Syms – Lessons: 15-16, Bryan Zanisnik – The Ineluctable Modality
Sept. 16 – 18:
Jodie Mack – Yard Work is Hard Work, Martine Syms – Lessons: 17-18, Samuel Fouracre – D.^^.$.®. (Dance.Music.Sex.Romance), Martine Syms – Lessons: 19-20
Sept. 19 – 22:
Martine Syms – A Pilot For A Show About Nowhere, Kevin B. Lee – Commercial Breaks 1, Laure Provoust – We Know We Are Just Pixels, Kevin B. Lee – Commercial Breaks 2, Ann Oren – Chronicles of L, Kevin B. Lee – Commercial Breaks 3
Abstract Program

//
Sept. 23 – 26:
Michael Robinson – The Dark, Krystle, Karthik Pandian – Untitled 1, Rosa Menkman – The Maze, Karthik Pandian – Untitled 2, Michael Robinson – Hold Me Now, Karthik Pandian – Untitled 3
Sept. 27 – 30:
Michael Robinson – These Hammers Don't Hurt Us, Kyle Schlie – Lifelong Longing, Rosa Menkman – The Maze, Rob Steinberg – Buy My DVD, Michael Robinson – Light Is Waiting
Oct. 1 – Oct. 4:
LJ Frezza – Boldly Going, Huong Ngo & George Monteleone – SSRI: The Self-Monitor, Heejin Jang – The Forbidden Entertainment, Huong Ngo & George Monteleone – SSRI: The Other Monitor, Derek G. Larson – Measurement: Cheers, Huong Ngo & George Monteleone – SSRI: The Self-Rememberer
Oct. 5 – 8:
Christine Lucy Latimer – The Magik Iffektor, Tina Willgren – Weather Alert, Ryan O'Hare – Pickled, Martin Murphy – LA Dreamer
Oct. 9 – 12:
Nicole Ginelli & Caitlin Denny – Ambient Exploitation: Holes, Lucy Pawlak – Matrix Poppin' Bot, Jeroen Nelemans – Nothing Stops What's now in Motion, Jillian Mayer – Hot Beach Babe Aims to Please, Brenna Murphy – skymapper, Kevin B Lee – Commercial Breaks 2
Experimental Program

//
Oct. 13 – 15:
Theo Shure – Commercial Break 1, Paul Hertz – Hippie Atom Test, Theo Shure – Commercial Break 2, Rosa Menkman – The Maze, Rosa Menkman – Tacit:Blue
Oct. 16 – 19:
Alfredo Salazar-Caro – Triptych AKA Miami Booty Bass Remixxx, Mitch Oliver – Independence Day, Alfredo Salazar-Caro – DiMoDa Teaser #4, Mitch Oliver – Independence Day, Alfredo Salazar-Caro – Triptych 1.0, Claire Jervert – Add to Cart
Oct. 20:
Nicole Ginelli – After Dark, Martine Syms – Lessons 21-22, Sara Condo – Control, Martine Syms – Lessons 23-24, Anna Ialeggio – Cactus/Pickle At Home
Oct. 21:
Nicole Ginelli – After Dark, Martine Syms – Lessons 25-26, Sara Condo – Control, Martine Syms – Lessons 27-28, Anna Ialeggio – It Started before
Oct. 22:
Nicole Ginelli – After Dark, Martine Syms – Lessons 29-30, Sara Condo – Control, Martine Syms – Lessons 31-32, Anna Ialeggio – Retirement Options
Oct. 23:
Nicole Ginelli – After Dark, Martine Syms – Lessons 33-34, Sara Condo – Control, Martine Syms – Lessons 35-36, Anna Ialeggio – Retirement Options
Oct. 24 – 27:
Sara Ludy – Dream House, Kevin B Lee – Commercial Breaks 3, Jon Cates – (ƑɌØM) ɱƴ/</\/\/Σ\/\/\/\/\/\/6-H̶ØÜɌ-5!7ƎƝɫ-#GLITCH-'Ƒ1ᒶM'…, Kevin B Lee – Commercial Breaks 3
Oct. 28:
Paul Hertz – Hippie Atom Test, Sara Ludy – Dream House, Martine Syms – Lessons 37-38, Jon Cates – (ƑɌØM) ɱƴ/</\/\/Σ\/\/\/\/\/\/6-H̶ØÜɌ-5!7ƎƝɫ-#GLITCH-'Ƒ1ᒶM'…, Martine Syms – Lessons 39-40, Rosa Menkman – The Maze, Nicole Ginelli – After Dark, Sara Condo – Control
Oct. 29:
Paul Hertz – Hippie Atom Test, Sara Ludy – Dream House, Martine Syms – Lessons 41-42, Jon Cates – (ƑɌØM) ɱƴ/</\/\/Σ\/\/\/\/\/\/6-H̶ØÜɌ-5!7ƎƝɫ-#GLITCH-'Ƒ1ᒶM'…, Martine Syms – Lessons 43-44, Rosa Menkman – The Maze, Nicole Ginelli – After Dark, Sara Condo – Control
Oct. 30:
Paul Hertz – Hippie Atom Test, Sara Ludy – Dream House, Martine Syms – Lessons 42-43, Jon Cates – (ƑɌØM) ɱƴ/</\/\/Σ\/\/\/\/\/\/6-H̶ØÜɌ-5!7ƎƝɫ-#GLITCH-'Ƒ1ᒶM'…, Martine Syms – Lessons 44-45, Rosa Menkman – The Maze, Nicole Ginelli – After Dark, Sara Condo – Control
Oct. 31 – Tele-novela HIGHLIGHTS:
Megan Rooney – Tillia Americana, Rodrigo Valenzuela – Maria TV, Martin Murphy – LA Dreamer, Martine Syms – A Pilot for a Show About Nowhere, Kyle Schlie – Lifelong Longing, Laure Provoust – We Know We Are Just Pixels, Kim Laughton – Siliconscious, Michael Robinson – The Dark, Krystle, Rosa Menkman – Tacit:Blue, LJ Frezza – Boldly Going, Brenna Murphy – skymapper, Jaime Davidovich – The Pope Show, Sara Ludy – Dream House