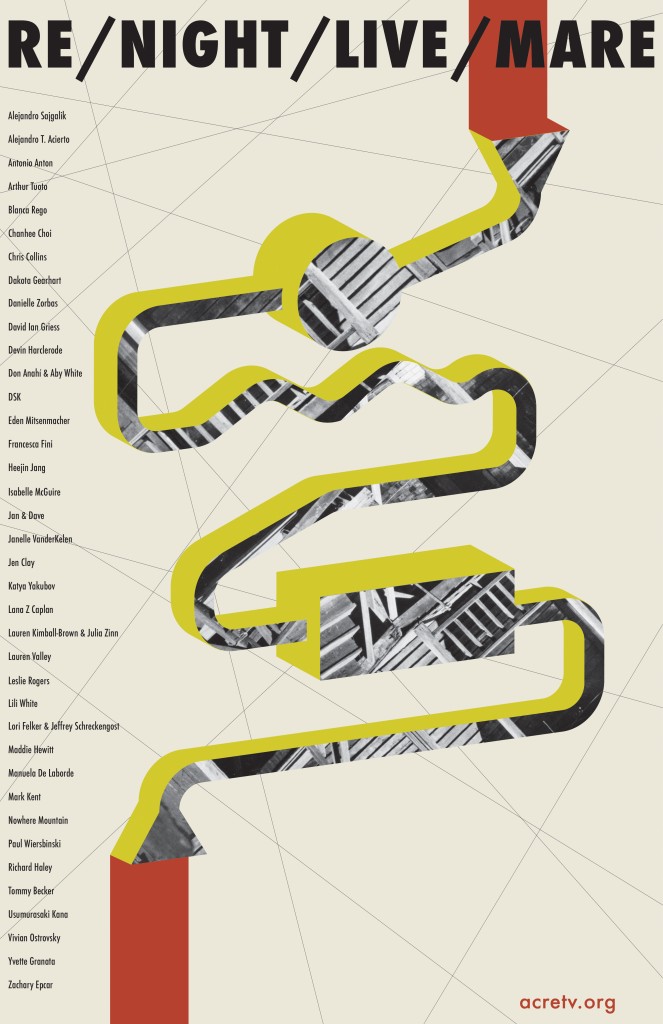 Poster by Amy Ruddick, RE/NIGHT/LIVE/MARE, 2016
November 1 – December 31, 2016
Concept by Joseph Herring
Programmed by Joseph Herring, Kera MacKenzie, and Andrew Mausert-Mooney
RE/NIGHT/LIVE/MARE re- considers your nightmares; re- examines your daydreams; re- contextualizes pre-existing (video art? videotaped performance work? found footage?) through re- presenting, re- editing, re -mixing. Featuring works that re- search, re- consider, re- examine, re- contextualize nightmares, daydreams, flying-fancies, hyper-realities. Also included: live re- mixing pre- existing work with new live footage to re- consider it in under the cold, hard, clinical (or soft warm fuzzy *wicked grin ) light of the telematic screen.
RE/NIGHT/LIVE/MARE includes work by Alejandro Sajgalik, Antonio Anton, Arthur Tuoto, Blanca Rego, Chanhee Choi, Chris Collins, Dakota Gearhart, Danielle Zorbas, David Ian Bellows/Griess, Devin Harclerode, DSK (Juan Lesta & Belén Montero), Dxn Anahí, Eden Mitsenmacher, Francesca Fini, Heejin Jang, Isabelle McGuire, Jan & Dave, Janelle VanderKelen, Jen Clay, Katya Yakubov, Lana Z Caplan, Lauren Kimball-Brown & Julia Zinn, Lauren Valley, Leslie Rogers, Lili White, Lori Felker, Maddie Hewitt, Manuela De Laborde, Mark Kent, Nowhere Mountain, Paul Wiersbinski, Richard Haley, Tommy Becker, Usumurasaki, Vivian Ostrovsky, Yvette Granata, and Zachary Epcar.
Featuring live broadcasts by Alejandro T. Acierto, Jan & Dave, Jen Clay, and Richard Haley.
SCHEDULE
Part 1: RE (Nov 1-7, Nov 29-Dec 5)
Vivian Ostrovsky The Title was shot 08:58
Leslie Rogers Victory Dance 02:25
Arthur Tuoto Je Proclame la Destruction 03:40
Antonio Anton The Gedelovskys 10:41
Lauren Valley Bennie and the Heads 01:01
Paul Wiersbinski Fly high or I fly above you 07:08
Katya Yakubov Maps to the In-Between 07:23
Mark Kent the waiting hotel 07:44
Richard Haley Proposal For Actions To Be Performed With My Ashes Once I have Deceased 01:01
Arthur Tuoto What We Make of Our MisFortunes 01:00:25
Heejin Jang Bleach Formula 06:54
Yvette Granata Superficie des Continents (The Area of the Continents) 05:21
Isabelle McGuire 3 Women 09:17
Part 2:
NIGHT
(Nov 8-14, Dec 6-12)
Lauren Valley Picture This 01:49
Richard Haley Variations on the Shadow My Decaying Corpse Will Cast 21:30
Chris Collins Lame Dream Dispatch: Part Two 01:05
Eden Mitsenmacher Couldn't Dream Anywhere 03:39
Alejandro Sajgalik Zuma Cuts 06:06
Zachary Epcar Night Swells 05:13
Chris Collins Lame Dream Dispatch: Part Three 00:50
Blanca Rego Droolworthy 12:36
Heejin Jang 1-800-FICTION 03:26
Chris Collins Lame Dream Dispatch: Part Four 02:43
DSK (Juan Lesta & Belén Montero) Early Trial 22:03
Lauren Kimball-Brown & Julia Zinn I'll Stay Awake 15:24
Mark Kent hippopotamus 07:23
Chris Collins Lame Dream Dispatch: Part One 01:14
Manuela De Laborde AS WITHOUT SO WITHIN 24:21
Part 3:
LIVE
(Nov 15-21, Dec 13-19)
Danielle Zorbas ants in the legs 40:44
Jen Clay Allon Allou: Mothers and Fathers 09:00
David Ian Bellows/Griess tv in the parking lot 02:39
David Ian Bellows/Griess omaha stakes 11:31
David Ian Bellows/Griess tv in the garage 05:53
Usumurasaki Kana love and peaceful morning and killing 18:47
Francesca Fini WITH AN HELMET 07:41
Chanhee Choi The Gut 08:08
Lili White SNAKE-FOOT 05:27
Jen Clay Allon Allou: Schools 11:20
Don Anahí & Aby White Autómata 10:00
Dakota Gearhart The Murf Never Sleeps 03:37
Heejin Jang Heikki Laaksonen's Silent Syllables 04:15
Janelle VanderKelen Clara 08:00
Jen Clay Allon Allou: Friends 05:19
Part 4:
MARE
(Nov 22-28, Dec 20-31)
Tommy Becker song for Awe & Dread 06:53
Richard Haley Pre-Enactment of Rubbing a Hole in the Inner Thigh of My Corpse 06:26
Lana Z Caplan Maelstroms 07:47
Devin Harclerode Sweaty Mother Slow Groove 18:27
Nowhere Mountain The Pumpkin Patch Incident, 1953 01:04
Chanhee Choi Eating Myself 03:21
Lili White FOOL'S GOLD: CALIFORNIA ROADTRIP in an ELECTION YEAR 1:16:05
Heejin Jang Pink Trilogy 04:16
Julia Zinn ONVECS WPBIL HMAGT 10:02
Maddie Hewitt Surface Onto Another 05:33
Lori Felker & Jeffrey Schreckengost Runts 06:50
Jen Clay Allon Allou: Hospitals 04:38
Jan & Dave Victorian House 02:47
This live broadcast will take the form of lecture discussing various possibilities of using my future corpse to create sculpture. This will be an attempt to locate the state between being and becoming a thing. Weight, mass, heat, and warm fluids will be tracked from their origins as building blocks of personhood and mapped to their dissension/ascension into purely spatial attributes disavowed from the body.

Transmit 2.0

Alejandro T Acierto
Airing LIVE from Chicago
6:30pm CT
Transmit 2.0 is an audio/visual broadcast work that highlights the complex relationship we have with communication technologies.
 
Let's Be Friends

Jen Clay
Airing LIVE from Miami
7:30-8 pm CT
Let's Be Friends is a performance where The Void, an untrustworthy character that is the manifestation of being afraid of the dark, speaks directly to the audience so that they may become "friends".
Zombie Tom Petty and the Mystery of My Dead Little Pony gives us what we all need, a fighting chance to save the world from the Apocalypse; and that chance is none other than Zombie Tom Petty. With the assistance of friends like My Little Pony, an inflatable kangaroo, a bubble wand and the Devil himself, Zombie Tom Petty sets off on an adventure with potentially dire consequences for each and every one of us.